A2 Fast Web Hosting 
A2 Hosting provides speed and quality of service. One good thing about companies that are just starting, or those that are lesser-known is that they need to struggle a bit more to get ahead of the pack.
They need to work a bit harder and prove themselves to their target customers in terms of performance and pricing. A2 Hosting is the latter. It's not as big as Hostgator or GoDaddy, but the company has been around since 2001.
Why they have not grown as significant as other companies are unknown, but there are companies that value quality of service versus unbridled expansion that diminishes the former. That and because A2 remains a founder-owned company not beholden to Wall Street interests.
A2 Hosting is based in Ann Arbor, Michigan with Data Centers in Arizona, Michigan, Amsterdam for Europe, and Singapore for Asian customers. The name A2 comes from their home Ann Arbor which sounds much better than their original name Iniquinet. A2 Hosting's A+ rating with the Better Business Bureau makes for a good start to this review.
Tip: If you are planning to form an LLC or corporation soon visit our list of the best business formation services and get our pick for the best LLC service.
Having a worldwide presence is another good sign for A2 where they can host their customers based on their geography or by choice. This expansion means that they're doing quite well for themselves aside from the fact that they've been around since 2001.
Being in the business for such a length of time means that they're well-experienced in the field and that their customers trust them, not just the BBB.
WordPress Hosting Prices 2021
Uptime and Reliability
To prove that trust, their claim of having 99.99% uptime has so far been substantial, with no downtime since starting our subscription several months ago. As previously mentioned, quality over quantity is enforced by limiting the number of customers on shared hosting servers.
They do stuff their data somewhere else, that is in customers' browser caches for faster customer experience, and a save on resources.
SSD Technology
A2 Hosting is also one of the many companies that have embraced SSD technology to ensure better performance despite the high cost of SSDs, and despite the potential savings they could make on the ever-lowering prices of high-capacity spinning HDDs.
SSDs are free with their plans, starting with their lowest-priced LITE Shared Hosting plan at $3.92 per month for two years.
Aside from being reliable, and being fast through SSDs, they offer pretty much the same features and services as most web hosting companies which include PHP7 support, Optimized WordPress, Optimized Magento, Linux or Windows-based hosting, Managed WordPress, Managed VPS, Dedicated Server Hosting, Free SSL and others.
A2 also allows reseller web hosting for savvy entrepreneurs who need a truly reliable hosting service.
Customer Service
Other A2 Hosting Services reviews view the company as being as reliable as we do, and being able to offer web hosting reselling is a good sign of reliability and performance. Both aspects would not be possible without excellent Customer Support which is also consistently good with other A2 Hosting reviews. Their support is available through phone, chat, and email 24/7/365. 
Need A Managed Dedicated Server? A2 Has Managed & Unmanaged Hosting
Starting Prices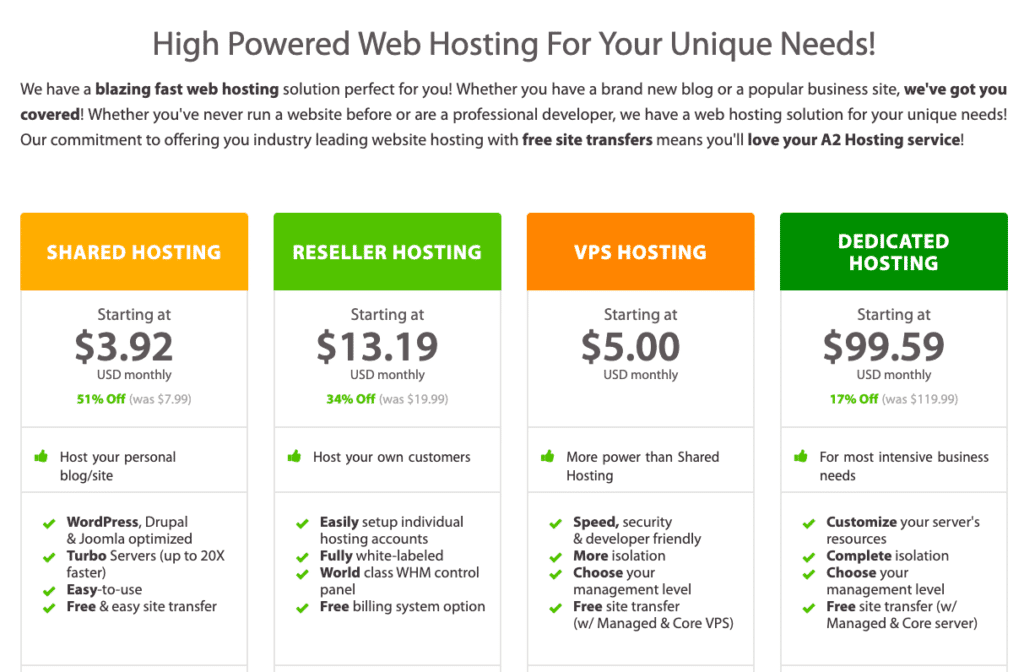 Pricing, however, is always tricky. A2 Hosting's lowest LITE Plan is only available for two to three-year contracts at 3.92 per month, which is still a good deal for people who value reliability.
For that amount, the speed is satisfactory but can still be better with upsells like migration to their more powerful SwiftServers.
Reseller accounts begin at $13.19 per month. Non-shared VPS hosting begins at $5 a month, and lastly, dedicated server hosting is at $99.59 per month at the latest.
These amounts, however, are available only for contracts. Monthly plans go a bit higher. As with other web hosts, the shift to SSDs and other upgrades understandably translates to higher costs so in case customers aren't satisfied with the cost to performance ratio, there's always A2's Anytime Money Back Guarantee. Anytime, within 30 days, that is.
They do have plenty of packages to choose from aside from what's mentioned to conform to your needs.
If there are any cons to A2 Hosting, it would be the pricing structure and confusing upsells. The lower tier packages do not automatically include stuff like regular backups, dedicated IPs, and spam filters but instead, come as bonus packages. Having a 'Turbo' level also seems a bit deceptive wherein such a level isn't offered as a package unto itself.
However, as a customer, if you want excellent performance, uptime, customer support; can understand and get past the pricing hurdles, know what you want and what you're getting into, then A2 Hosting could be the right hosting service for you.