Affordable High-End Hosting
We review the hosting service InMotion Hosting, a high-end hosting service based in Los Angeles, and they charge a little extra for this level of service.  Would you like to be sure that your website will be fast and responsive right from the start? Is there such a thing even if you're sharing your host server with others? Then InMotion Hosting could be the provider for you. It's rather difficult to differentiate among web hosting providers nowadays with their similar-looking websites and features.
What makes InMotion stand out is that they provide Solid State Drives (SSDs) from the get-go, not just as an option. Through SSDs, computer performance is improved at least 20% faster than with traditional mechanical hard drives.
InMotion Hosting Shared Hosting Services
Unlike other web hosts which still use mechanical drives, and maybe even high-capacity but slow 5400rpm ones to cut costs, InMotion Hosting has shifted to modern SSDs ensuring faster responsiveness than others. But there's more to InMotion than their use of SSDs.
InMotion Hosting is one of the big names in the web hosting industry. InMotion has been around since 2001 and now hosts over 300,000 domains across two data centers in Los Angeles and Virginia and even has a spinoff company called Web Hosting Hub which caters to beginners and bloggers. After being around for so long, the experience is always a plus.
Business Tip: If you are planning to form an LLC or corporation soon visit our list of the best business formation services and get our pick for the best LLC service.
InMotion Hosting WordPress Hosting Services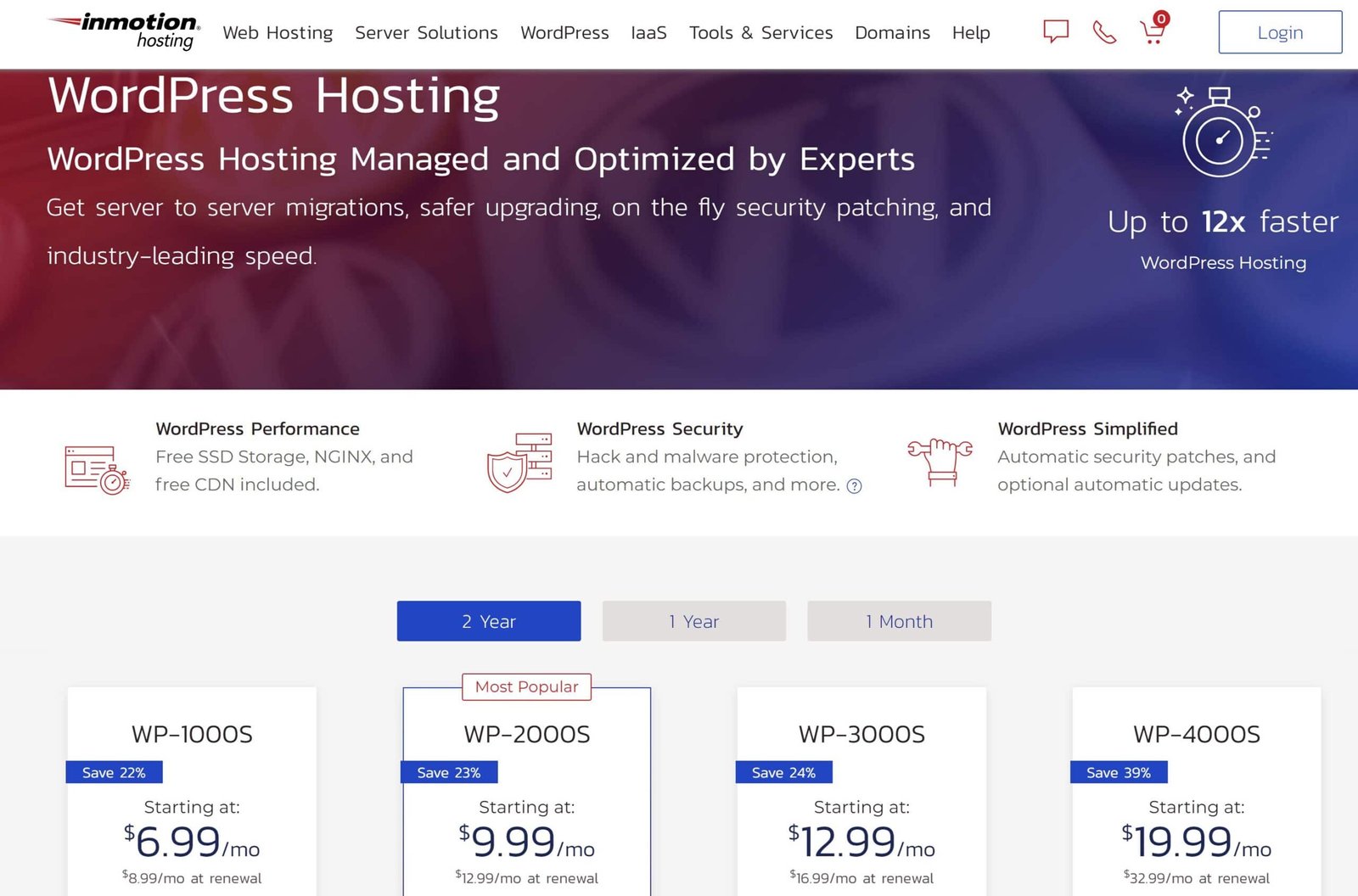 SSD = Responsive Speed
Others may think that companies that have been around long enough could either get stagnant or begin their decline. Hardly as InMotion's shift to SSDs suggests otherwise. The high overhead cost means they have money to burn and the courage to take the risk to be ahead of their many competitors.
Though there are plenty of factors to the speed and responsiveness of hosted websites, the reputation of SSDs precedes the technology, InMotion's use of SSDs is a large green flag to customers.
Another feature of InMotion Hosting is its 90-day money-back guarantee. Most web hosting sites offer only 30-day money-back guarantees which isn't much time for customers to get accustomed to their web host before the anxiety of getting their refund kicks in.
The providers themselves are missing out on customers who have no time to acclimate to their homes and become impressed during the 'good days' when their service isn't too busy.
The 90-day money-back guarantee is a smart move by InMotion but still risky in terms of wasted resources should customers do back out. The 90-day guarantee, however, applies to their services other than shared hosting.
Choice Of Data Centers
Another exciting feature by InMotion Hosting is the ability of customers to choose their preferred Data Center Location. They may choose between InMotion's LA or Virginia data centers in case their target demographic lies on the East or West Coast of the US, thus allowing for faster traffic to their preferred geographic location.
Reliability
In other aspects, their reliability level remained consistent at over 99.6% with the lowest in January 2018 and the rest at over 99.9%, which is not bad. That level of uptime coupled with fast page loads, the lowest being just over a second, borders on excellent.
InMotion Hosting is certified by CNET for sixteen years and has an A+ rating from the Better Business Bureau as well as several awards from several IT publications.
The excellent performance or not, it's essential for any provider to have quick, and efficient Customer Support, especially during the 'not' periods. Customers appreciate fast, efficient, and accurate responses and will remain with the service despite several problematic scenarios as long as their needs are met.
InMotion Hosting is one of those services that offer excellent customer support in as fast as 2 minutes.
In terms of packages and services, they're mostly similar to other web hosting services. They offer shared hosting, Managed hosting, WordPress support, multi-platform support, Enterprise services, web design, website creators, and more.
However, with their emphasis on using SSD storage, their pricing is a little high compared to other hosting providers. Their business hosting packages start at $6.39 per month compared to others who dare to go as low as $1 a month. The price is not bad if you're okay with a 24-month contract.
Another issue is their weird US phone verification system which makes it a problem for international who want to take advantage of their service.
This is done in the name of security, wherein they may even ask for scanned IDs. Another con of note is their lack of free backup for websites that exceed 10GB and reserves can be months apart, making it a good idea for customers to back up their sites regularly.
In conclusion, InMotion would make a good web hosting provider if you want speed and good customer support as well as enough money to burn as well as the prudence to perform your backups if you run a small website.