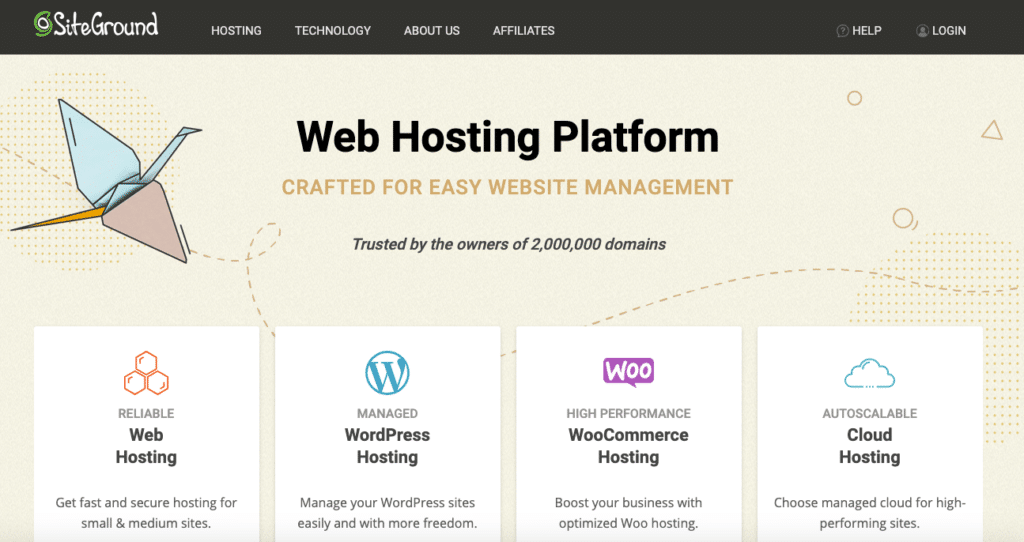 SiteGround Hosting is another large web hosting provider and a veteran tech company by today's standards. Bulgaria-based SiteGround has been around since 2004 and now hosts over half a million domains spread across several data centers in Amsterdam, Chicago, London, Milan, and Singapore.
The company is composed of over 400 employees, half of which are on duty as customer support, which is one of the hallmarks of their service.
SiteGround Hosting – WordPress Experts
What differentiates SiteGround Hosting from other web hosting services is their emphasis and expertise on WordPress.

WordPress remains the top platform for website development for its ease of use and thousands of site-enhancing themes and plug-ins from which SiteGround is counting on to maintain its longevity and expertise; thus giving their customer support a significant advantage over other web hosting providers.
Tip: If you are planning to form an LLC or corporation soon visit our list of the best business formation services and get our pick for the best LLC service.
WordPress.org officially recommends SiteGround as the best WordPress host.
What makes SiteGround Hosting the best choice for WP Hosting?
See the reasons below:
One-click WordPress Installs

SiteGround Optimizer for a smooth migration to PHP version 7

Free high-quality WordPress Themes

Automatic WordPress Updates

Support for Staging/Development Sites before Publishing to Production
When it comes to speed, SiteGround boasts its Supercacher composed of multiple caching technologies called Memcached and Varnish Cache coupled with the use of SSDs or Solid State Drives for storage.
They also have other tools for site optimization, including the aforementioned SiteGround Optimizer as the use of PHP 7 significantly improves WordPress sites made with previous PHP versions. Thankfully, their Supercacher technology is available on all their hosting packages but has to be manually enabled.
How Reliable is SiteGround Hosting?
Like most Web Hosting providers, SiteGround boasts a 99.99% uptime and proves it by showing their users the actual status of their websites.
Performance for hosted websites is quite satisfactory thanks to their optimizing technologies and proactive security staff that are always on the watch for threats that can affect the business.
SiteGround is also generous when allocating resources per website by giving them high default limits such as 256MB RAM for basic sites.
SiteGround's Web Hosting Prices (Same As WordPress Hosting)

---
SiteGround's Cloud Hosting Service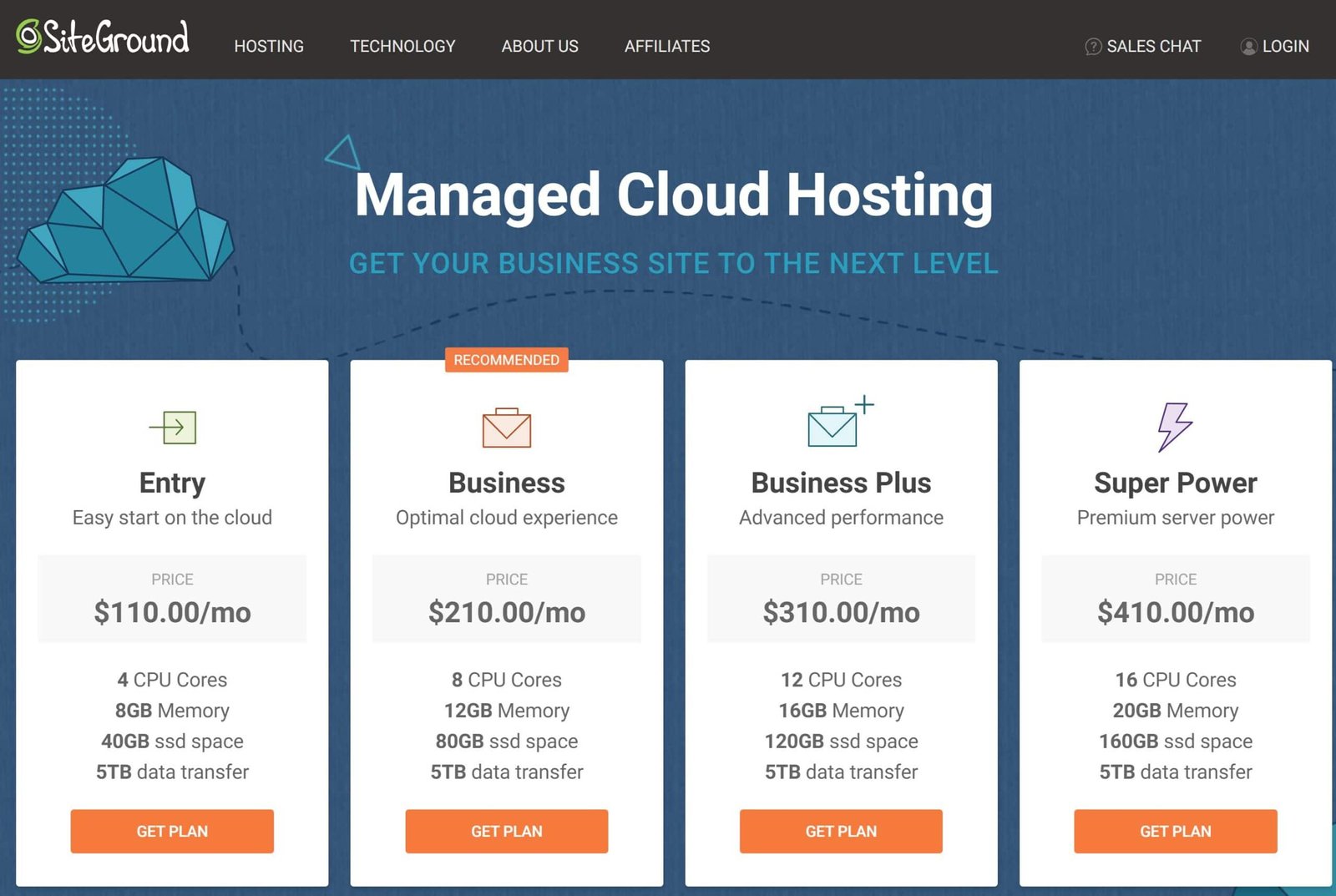 SiteGround Pros
Customer support is also nothing to sneeze at and is available 24/7. As mentioned, half of their 400 employees are on support duty via phone, email, or chat. Response time is almost instantaneous, and depending on the issue, resolutions can come in as short as 5 minutes.
Lastly, they also have free daily backups, which they can afford to do, thanks to their unique method. Their particular way also allows for quick restores when needed.
SiteGround Cons
Pricing, however, comes at a price, thanks perhaps to their usage of SSDs. Their most basic package (StartUp) starts at a discounted rate of $6.95 per month with 10GB worth of web space, one website, and allocated resources that allow for 10,000 monthly visits.
Their recommended GrowBig package costs $9.95 per month, which is not bad for 20GB of space, resources that allow 25,000 monthly visits, and an unlimited number of websites.
If you're satisfied and stick to your minimum one-year contract, you might be surprised that the renewal rate is three times bigger. Perhaps by then, users would have enough income to compensate.
Speaking of a one-year contract, Siteground does not have monthly payment options. It's still something to consider despite the hosting provider's lower annual total than others.
Lastly, the issue with SiteGround is that their interface is not as intuitive as other hosting providers. This could be due to their focus on WordPress which can get quite technical for the average crowd.
Overall, SiteGround's speed, reliability, support, global reach, and focus on WordPress makes it the ideal candidate for WordPress sites, especially for e-commerce ones.