I have compared hundreds of online reviews including
ZenBusiness reviews
,
Northwest Registered Agent reviews,
and several
Incfile reviews
for this review. These
top-rated LLC services
and
registered agents
are the leading companies for online business formations in 2023.
Do you need to create an LLC but are frustrated by the complexity and hassles of going alone? Many providers, such as Northwest Registered Agent and LegalZoom, offer LLC services.
However, it can be challenging to determine which provider is best for you. This comparison between LegalZoom and Northwest Registered Agent will help you make an informed decision.
LegalZoom vs. Northwest Registered Agent Comparison Table
 

LegalZoom

Northwest
Registered Agent

Notes

LLC Price
$149 + state fee
$39 + state fee
Northwest's filing fees cost $110 less

Registered Agent 
Price

$249
For the first year, it's free. Then, $125 per year
Many LegalZoom clients say that it is difficult to cancel.
Approval Time
30 Business days unless otherwise agreed
3-5 business days (in most states)
Northwest is, on average, three weeks quicker
Google Reviews
LegalZoom is rated 3.7 stars
Northwest gets 4.5 stars
Northwest receives better reviews
Customer Support
They can be challenging to reach. Sometimes, they will try to sell you more products.
Industry experts who are willing to share their expertise. Friendly. No sales pitches.
Northwest provides better customer service. And no "pushy" salespeople.
Data Privacy
LegalZoom sells customer data.
Northwest never sells customer data.
 
I researched the
best LLC services
and the
best registered agents
in the U.S. and picked a short list based on various factors, including turnaround time, pricing, features, ease of use, experience, educational resources, customer support, and customer reviews.
What LLC company is best for your business?

Visit Northwest Registered Agent
https://www.northwestregisteredagent.com

Visit LegalZoom
https://www.legalzoom.com
Let's take a look at some of Northwest's advantages over LegalZoom before we get into our detailed comparison between LegalZoom and Northwest Registered Agent. First, Northwest offers a full year of registered agents service with every LLC service purchase. LegalZoom doesn't provide this valuable service with their LLC formation packages. 
LegalZoom's customer support is only average. Northwest offers the best customer service in this industry. These advantages far outweigh LegalZoom's significantly lower pricing for LLC formation services.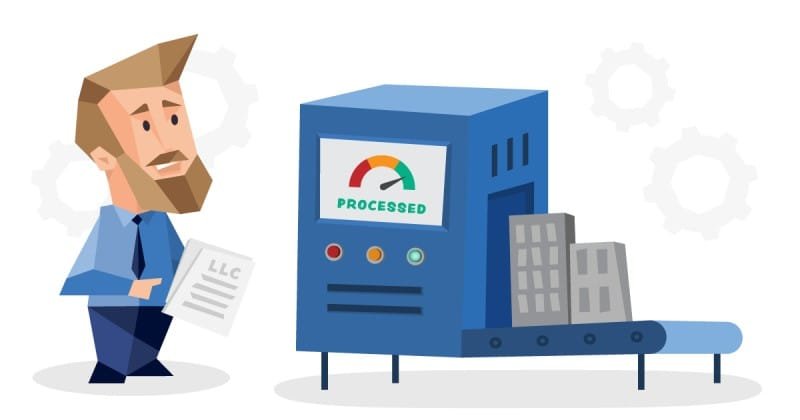 Things They Share in Common
1) Affordable:
LegalZoom and Northwest Registered Agent both fulfill the role of companies that can assist with LLC formation without you having to pay a business lawyer to prepare and file your documents.
2) Customer Support:
This is the most crucial reason these services can significantly benefit you. You don't have to do it yourself if you have any questions. Instead, contact the customer service department and receive answers from trained professionals.
3) Experience:
Thousands of satisfied customers back LegalZoom and Northwest Registered Agent.
4) Additional Services:
These companies have many more services to offer after their LLC formation. They can provide comprehensive business services that address all compliance needs, including registered agent service.
5) Educational:
They offer a variety of tools that can be used to help you understand the business world and manage your LLC. These companies provide a wealth of information on many issues business owners face, such as asset protection, licensing, permits, and so forth.
6) Speed:
LegalZoom and Northwest Registered Agent offer expedited services that can drastically speed up the formation process. This is often from weeks or even months down to just days. It is more expensive but can save you time if your situation is urgent.
LegalZoom vs Northwest: Pricing
Northwest Registered Agent offers one LLC formation package at $39 plus a state fee. LegalZoom offers three more expensive packages: $79, $329, and $349. Everyone would prefer to pay $39 rather than $79+.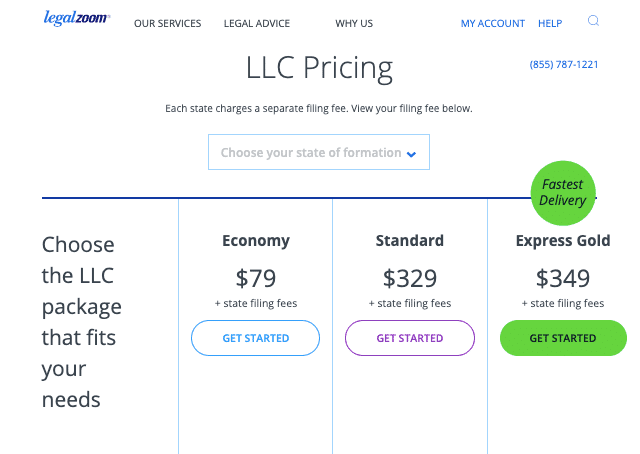 Features
These companies offer similar services, but Northwest Registered Agent includes a full year's registered agent service. LegalZoom doesn't provide registered agent service in any LLC packages, not even the premium ones. Let's say, for comparison, that you are determined to use LegalZoom to create your LLC. However, you still want the same features as a Northwest LLC package.
LegalZoom will charge you an additional $249 per year for registered agent services if you add it as part of your LLC package or $299 if purchased individually. This means that your total cost would be $328 instead of the $39 with Northwest.
Experience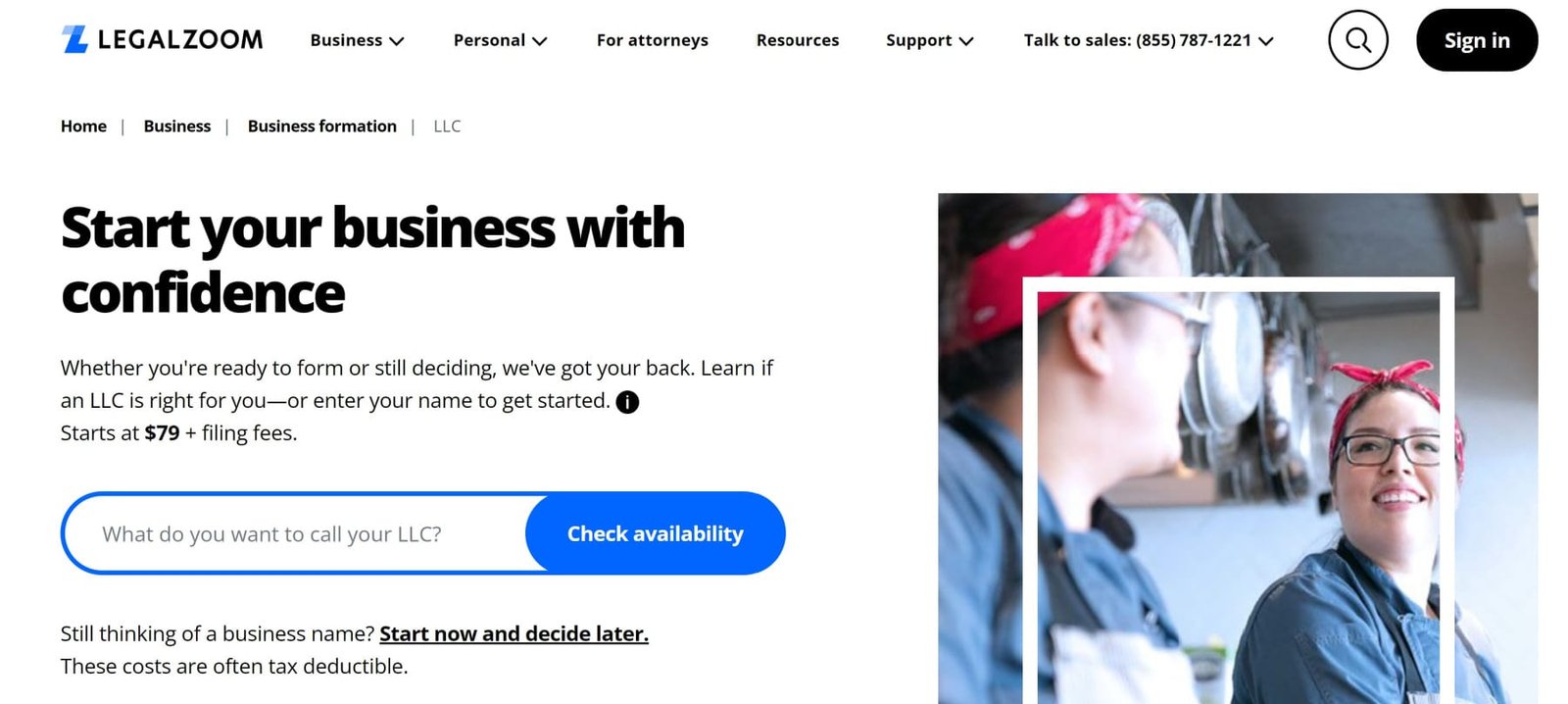 Northwest Registered Agent is a medium-sized business with a lot of experience and knowledge. They have been in business since 1998, have over 200 employees, and have helped form thousands of companies.
LegalZoom has served millions of industries since 1999. Both are highly reputable, and you can choose which company to do business with.
Support for Customers
Northwest is a great company to work with. With a team of professional-trained Corporate Guides, they keep their customer support premium in-house. We have always been able to immediately answer any questions we have about complex state laws or the formation of LLCs.
Although LegalZoom's support agents may not be as well-versed as Northwest's, they have an advantage with extended support hours. They are available to take your calls or emails between 8 and 10 PM ET on weekdays and even Saturdays between 10 and 7 PM ET.
Turnaround Times: The turnaround times for Northwest Registered Agents differ from one state to the next, while LegalZoom's depend upon which level of service you purchased. Economy ($79) takes 30 Days, Standard ($329) takes 15 Days, and Express Gold (349) takes 7-10 Days. Both companies have quick turnaround times. Just keep in mind that LegalZoom takes longer in some states than Northwest Registered Agent.
We prefer Northwest's approach since we don't like companies that slow down or speed up your formation depending on how much you spend.
Order Tracking: Both services provide online tracking, which allows you to view real-time order status updates.
This is a great way to track your formation at any given time. These companies are, in our opinion, equals in this field.
Registered Agent Service
Each LLC in America must choose a registered agent. This is a person or entity that receives essential documents (like service of process), notifies you of receipt, and then sends the documents to your address. 
Northwest Registered Agent offers a year of registered agent service for any LLC formation. It's $125 each year after that. Northwest is the only national registered agent service that scans all documents they receive locally. This is vital because the state must have a reliable way to contact your business at all times.
Their competitors can only use the government documents they are required to scan. LegalZoom doesn't include registered agent services in any form package. They charge $299 per year (though you can get your first years for $249 if added to your LLC package).
Customer Reviews: Northwest Registered Agent has high reviews but only 270 online reviews. LegalZoom, however, has over 4,000 reviews, although their feedback is mixed. Although they have more positive reviews than their competitors, their customer satisfaction reputation has improved over the years. However, they don't have as high an average review score as some peers.
 Northwest scores are higher on average. It's easy to use. It's not that much of a difference, so we'll only mention that LegalZoom's website may be a little easier than Northwest Registered Agent. LegalZoom's website can sometimes overwhelm you with upsells, but that is not the problem.
Additional Services Both companies offer similar services. You can count on them to provide foreign registrations, registered agent services, annual reports, and many other services. 
LegalZoom offers various personal services that Northwest Register Agent does not provide. LegalZoom can help you create an estate plan or a pet protection agreement. Northwest doesn't provide this service.
They do, however, offer consultations with lawyers to their clients. But, Northwest does offer a few services LegalZoom does not, such as mail forwarding or virtual offices.  
What is the best service for LLC formation?
Although both offer excellent LLC formation services, LegalZoom and Northwest Registered Agent have many differences. Certain aspects make Northwest's service more attractive and provide better value overall.
Northwest offers a full year of registered agent service for $125. Northwest also provides more consistent customer support. You may choose one over the others for different reasons. Here are some scenarios to help you decide.
Why choose Northwest? Do you want the best customer service in the industry? Maybe you value registered agent service. Northwest Registered Agent is the right fit for you.
Why LegalZoom? Are you more comfortable using a well-known service and has a large number of customers? If so, choose LegalZoom.
---
Most Frequently Asked Questions
Are there any additional state requirements for Northwest publications like New York Publication?
While Northwest can provide a lot of assistance with state-specific requirements such as publication, they don't offer to do it all. In New York, for example, they allow clients to use their Albany address to serve as their principal office or "address to service of process." Then, they provide a step-by-step guide to help you complete the remainder of your publication requirements.
LegalZoom does not offer publication services. We recommend ZenBusiness and BizFilings if you need a company to do this for you.
Which service has fewer upsells?
This is a vast difference between Northwest LLC and LegalZoom. LegalZoom has a lot of upsells, while Northwest does not even attempt them. LegalZoom will require you to navigate through $1,080 worth of upsells before you can choose your LLC formation package.
Are these services allowed to share my information with third parties?
LegalZoom and Northwest both have solid reputations in this area. LegalZoom and Northwest are focused on their services, even though many of their competitors seem to be in a race for your information with third-party partners. Customers often present this as "free extras" or bonus features.
Is there a refund policy for either of these services?
LegalZoom's complete satisfaction guarantee demonstrates how confident they are about the quality of their products. Their guarantee states that they will issue a refund within 60 days of the purchase if you request a refund within five days.
Northwest has a solid policy for refunds, but not as strong as LegalZoom. Northwest also offers refunds, but they charge $25 for processing fees. Or, in their words, a "You changed mind fee."
Which website for LLC formation is faster?
This question is dependent on the state in which you are forming your company. LegalZoom and Northwest have very different processing speeds.
While Northwest's turnaround time is based upon the capabilities of your state of formation, LegalZoom's is based on what level of service you have purchased. Their cheapest package (Economy) is the slowest at 30 business days. However, their standard package, which comes up to 15 business days, speeds things to 7-10 days.
Can I register an LLC on my own, without a service?
This option is available to entrepreneurs, and many start their own LLCs. We don't recommend this because every state is different. Each state will have its own rules and regulations. We love the security of hiring reputable services like LegalZoom or Northwest. It allows us to ensure that every step has been completed in compliance.