This Northwest Registered Agent review for 2022 examines their prices, formation plans, registered agent service, customer reviews, and more.
Since 1998, Northwest Registered Agent has helped many thousands of people realize their dream of becoming the owner of an LLC, corporation, and non-profit organization by providing valuable assistance in registering their companies.
Northwest Registered Agent provides the assistance needed to help individuals and their partners get their business started quickly.
Northwest is regarded as the leader in registered agent services and customer support. In this review, we examine the features, prices, and plans that make Northwest stand out from the rest.
Northwest Registered Agent Review: Pros and Cons
Northwest Registered Agent




Pros

Northwest Registered Agent




Cons

$39 Business Formation with 1/yr of Registered Agent Service 
Same-day business formation and filing
It is extremely simple to use.
Strong Data and Privacy Protection
Reliable and well-liked
Exceptional Customer Service

You must request a refund by phone
Northwest Pricing
LLC filing $100, Reg. Agent $125/yr = $225   $39 (Our readers get the discount)
| | | |
| --- | --- | --- |
| Northwest Service | Up-front Payment | Monthly payment |
| Basic filing service | $100, $39 plus state fee | Included |
| Registered agent service | $125/year | Included |
| Operating agreement and other documents | Free | Free |
| Federal Tax ID (EIN) | $50 | Included |
| Annual business compliance filings | $100 | Not included |
The section below provides current pricing information on Northwest Registered Agents' offerings to the public.
Northwest Registered Agent also provided us with a special offer to form LLCs for our readers. This offer is $39 + state fees, instead of the $225 + state fee standard. It also includes:
Basic LLC formation: This includes a name availability check, document filing, and tax preparation. You can expedite your LLC creation for $20 or $40 if you need it quickly and get approval faster.
Register agent services: No charge for the first year. After that, $125/year.
Reminders for annual reports: Northwest Registered Agent will email you reminders before your annual report is due.
You can add optional services to this offer:
Annual Report Compliance Service – No up-front fee; $100 plus state fees are required five days prior to the due date. Northwest Registered Agent can help you reduce administrative burden and protect privacy by filing your annual report on behalf of your LLC.
EIN service – $50: This involves obtaining an EIN (a tax ID number) from IRS.
Operating Agreement – $50: Northwest Register Agent will give you a customized Operating Agreement that you can immediately use.
Certificate of good standing: This document is required when you apply for foreign certification for your LLC in order to conduct business in another country.
The Certified Copy will verify the authenticity of your final approval paperwork. This document is required if you are applying for a foreign qualification in another state.
Phone service – First 60 days free, then $9/month. Northwest Registered Agent will give you a separate telephone line for your business that you can use online from any computer or mobile phone.
Consultation on credit cards – Free: A Northwest Registered Agent can help you get a credit card that suits your needs with more favorable terms.
Northwest Registered Agent Review: Price Comparison
Service
LLC Formation with One Year of
Registered Agent Service
Northwest Registered Agent
Editor's Choice 2022!
$225  $39
Discounted price for our readers!
Incfile
$149
ZenBusiness
$299
BetterLegal
$389
LegalZoom
$328
Swyft Filings
$299
Privacy By Default®
https://www.northwestregisteredagent.com
Northwest Business Formations Start at $39.
Includes One Year Registered Agent Service!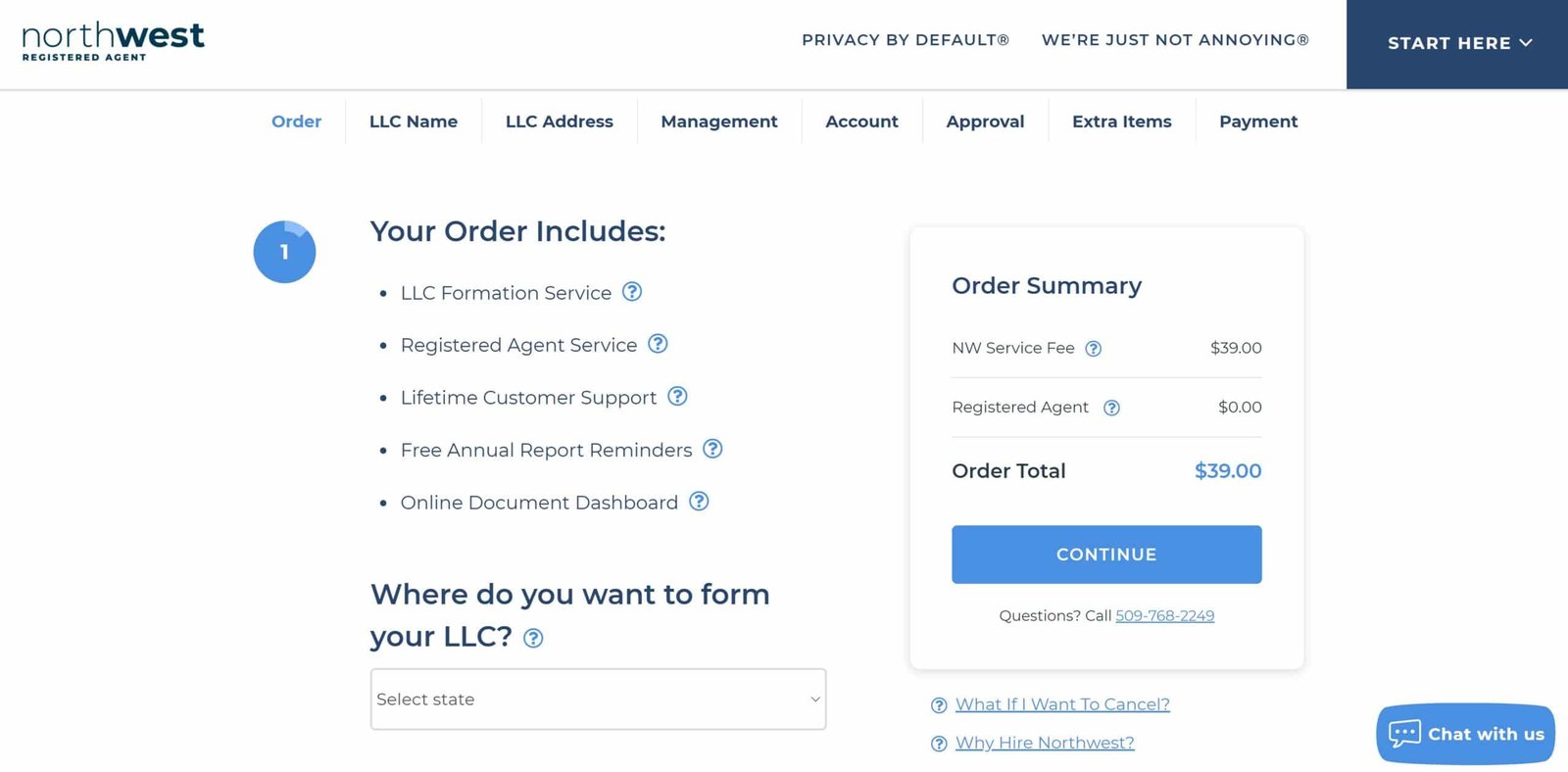 Northwest Registered Agent: Customer Reviews
| | | | | |
| --- | --- | --- | --- | --- |
| | Rating | Number of Reviews | Source | Updated |
| Google  | 4.5 stars | 283 reviews | Google reviews | Feb 23, 2022 |
| Better Business Bureau | 4.4 stars | 83 reviews | BBB reviews | Feb 23, 2022 |
| Yelp | 4 stars5 | 2 reviews | Yelp reviews | Feb 23, 2022 |
| Birdeye | 4.4 stars | 368 reviews | Birdseye reviews | Feb 23, 2022 |
Better Business Bureau Ratings
Northwest Registered Agent BBB Rating A-
Visit Northwest's BBB page
Visit Our Top 8 Best LLC Formation Services 2022
Northwest Registered Agent Review: Monthly Payments
Northwest is the only LLC service providing affordable monthly payments for its customers. This is great for states like Texas that have a $300 state filing fee. Northwest rolls their formation fees together with the state fees for a low amount.
Get an LLC formed in California for just $37 a month. Texas is $54 a month.
Step 1 Enter the Type of Business
Step 2 Select Payment Type: Free 12 Month Payments or Full Payment
Step 3 Follow the Prompts
For as low as $37, you can form an LLC, including one year of registered agent services, and have the state fees rolled into the payments.
California LLC, $37
Texas LLC $54
LLC Georgia $37
---
---
The state fee in Texas is $300
For $54/mo, form an LLC in Texas (state fee included).
Since 1998, Northwest Registered Agent has helped many thousands of people realize their dream of becoming the owner of an LLC, corporation, and non-profit organization by providing valuable assistance in registering their companies.
Northwest Registered Agent provides the assistance needed to help individuals and their partners get their business started quickly.
---
Business Formation Services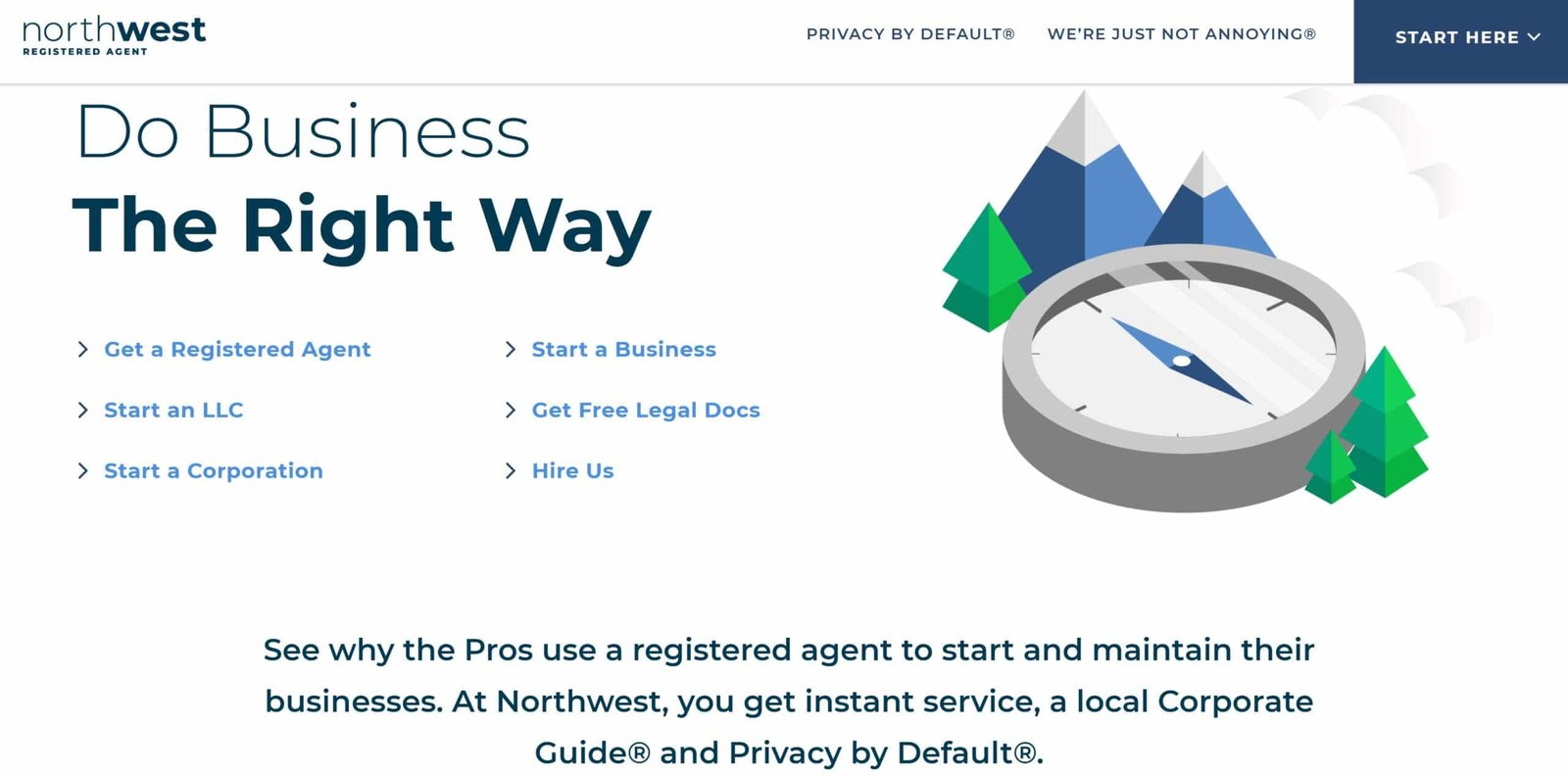 Northwest Registered Agent provides fast and efficient services to assist LLCs, corporations, nonprofits, and others in registering a company in their state.
Northwest Registered Agent offers core services to individuals who wish to register business entities with a registered representative as required by the state to create the formation papers.
Northwest Registered Agent
$39 LLC Formation, Filing, and Operating Agreement
Includes One-year Registered Agent Service
= $39 + state fee
---
California LLC Formation + Registered Agent + Tax ID Number + State Fee = $37/mo
Northwest Formation Services
Although the initial price might seem high, consider that Northwest Registered Agent does much more than send documents to the capital.
It is also a cost to keep your information private. Northwest R.A. will not sell your information.
These registered agents are for you if you need privacy and expert assistance without being intrusive.
LegalZoom vs Northwest Registered Agent Comparison Table
LegalZoom
Northwest
Registered Agent
Notes
LLC Price
$149 + state fee
$39 + state fee
Northwest's filing fees cost $110 less
Registered Agent
Price
$249
For the first year, it's free. Then, $125 per year
Many LegalZoom clients say that it is difficult to cancel.
Approval Time
30 Business days unless otherwise agreed
3-5 business days (in most states)
Northwest is, on average, 3 weeks quicker
Google Reviews
LegalZoom is rated 3.7 stars
Northwest gets 4.5 stars
Northwest receives better reviews
Customer Support

They can be difficult to reach.

 

Sometimes, they will try to sell you more products.

Industry experts who are willing to share their expertise.

 

Friendly.

 

No sales pitches.

Northwest provides better customer service.

 

And no "pushy" salespeople.

Data Privacy
LegalZoom sells customer data.
Northwest never sells customer data.
 
Guides for Local Companies
A trained agent will assist you in setting up your business.
You will get the following services when you use them:
LLC Operating Agreement and LLC Bylaws
Files for Business on the Same Day
Stock certificates, memberships, and resolutions
Full Registered Agent Services
Added Services
Additional services are available for those who require more than just business formation services.
Initial Resolutions
Services for custom-drafted articles
Registration Agent Services for a Full Year
You will be properly represented if anything relates to the formation of the business, the documents, and if the laws change within twelve months.
You can also take advantage of the additional services for up to one year.
You can then decide whether to remain with Northwest Registered Agent or move to another registered agency service.
The Northwest Registered Agent can do everything manually. The documents can be filed the same day as they are completed, provided that they are available.
All the services that you would expect from a registered agent are available at a reasonable price. There is no upselling by the agent as there is only one flat fee for all services. With the best possible service, you get what you pay for.
---
Registered Agent Services
Northwest Registered Agent's core mission is to help people without any experience to create legally recognized LLCs, corporations, and non-profits.
They eliminate the need to guess and provide all necessary information for the proper registration of an organization or company.
Many people in the industry consider northwest Registered Agent to be one of the top, if not the most, registered agent services.
They are frequently listed among the best registered agents services.
Price: $39 + state fees
Flat rates are available when you register for business in other states.
Northwest Registered Agent will ensure that the correct documents are filed for your expansion.
Data secured
Data security is of paramount importance to business owners, especially when they have access to the internet.
Northwest Registered Agent is privy to all data you send to them. No third-party cash exchanges will result in your data being made public.
Northwest Registered Agent has over 20 years of experience in this field. We can help you keep your company on the right side with our guidance and business formation expertise.
This means that every state and federal guideline ensures your company meets all government requirements. Northwest ensures privacy
Privacy
Although it may seem odd to think about privacy while forming your first LLC or corporation, it is important.
This all changes when your mailbox, phone answering service, or email is filled with junk mail and messages from solicitors.
Northwest Registered Agent protects your contact information and address so you can concentrate on your business, not dealing with solicitors or junk mail.
What began as a business opportunity more than 20 years ago has evolved into a passion for helping anyone who wants to create a company, LLC, or corporation to succeed.
Northwest Registered Agent is, therefore, one of the most knowledgeable and experienced in the field.
Northwest Registered Agent is available to help anyone looking to start their own business.
The following are some of the services that Northwest Registered Agent offers:
Corporate guides
The vast world of government bureaucracy becomes much smaller and easier to understand when the services are provided. You can reach a representative from Northwest Registered Agent if you have any questions.
Documents are scanned locally.
All documents received at the local registered agent office are scanned to ensure quality control, availability, and customer satisfaction.
Fast and personal service
National Registered Agents are designed to respond quickly to customers and provide complete information.
We provide the best services for you, from the quick filing of forms to easy access to current information.
---
Northwest Registered Agent Best and Worst Parts
Strengths.
1. Same-day filing
Northwest Register Agent has a written commitment to file your LLC within the same business day that you have placed your order.
It is important to note that even though the filing can be done in one day, it may take several business days for state authorities to process the articles of organization. There are some states that allow for expedited processing.
2. Excellent customer reviews
While Northwest Registered Agent may have fewer reviews online than its competition, the majority are positive.
This company is highly rated by Google reviews, Yelp reviews, and Better Business Bureau reviews. Customers laud the simple service, quick turnaround times, and, especially, the friendliness of the staff. While there are not many Northwest Registered Agent reviews on Reddit the majority of them are very positive.
They also have a BBB rating of A.
3. Great customer support
Northwest Registered Agent takes pride in its ability to provide swift, competent, and hassle-free support through its in-house customer support team.
Contact Northwest Registered Agent by phone or email. They will promptly answer your questions and help.
Northwest Registered Agents can answer any questions you might have about business registration in general or specific circumstances.
There are many ways to get in touch with Northwest Agent:
Online. Use the Contact Us page to get in touch with them.
Phone: Call them @ 509-768-2249.
Email: Send your message to support@northwestregisteredagent.com.
4. Effortless, clear communication, and no upselling
Registering your LLC with Northwest Registered Agent was simple.
When you place an order, a Northwest Registered Agent will take care of everything else.
We were also impressed by the variety of legal explanation articles found on the company's website. There are likely to be an article answering all your questions about business formation in simple language.
Northwest Registered Representative No Upselling 
Northwest Registered Agency is true to its motto and won't try to upsell you on services that you don't use.
Reliable, trustworthy service
Northwest Registered Agent is a registered agent and LLC formation specialist for over 20 years.
They can provide services to individuals, as well law firms, who need LLCs filed on their behalf.
6. Great privacy protections
Northwest Registered Agent takes pride in its reputation for privacy protection and is committed to protecting users' privacy.
Their business practices are designed to protect your privacy.
According to their website, their privacy commitment includes:
They use their own address information instead of yours for filing documents, wherever possible
Never sell your personal details to third parties
Ensuring that your data's IT infrastructure is secure and reliable (it is regularly audited for security vulnerabilities by an in-house IT security group).
Limiting access of your personal information to people who work in-house. Never giving personal information away to third parties, without your consent
You will not be asked for any information, except it is necessary to execute your orders
We like the fact that Northwest Registered Agent is clear about protecting your sensitive information. This is not something many of their competitors do.
---
Northwest Registered Agent's Weaknesses
I haven't found anything yet worth mentioning
---
Northwest Registered Agent FAQs
Here are some frequently asked questions regarding the services of Northwest Registered Agent.
Do I have to hire a registered agent?
Yes, if you are looking to adhere to state regulations. Although it may seem redundant, the registered agent is an important resource that both state and federal authorities have recognized.
If your business is required to contact the government for any reason, it will not have a registered agent.
What does a Registered Agent do?
The registered agent, also known as Articles of Incorporation (or Articles of Organization), is responsible for filing formation documents with the state to be part of the public record.
This is necessary to create LLCs or Limited Liability Companies.
Why is registration required for registered agents?
The public record will contain the registered agent's information if the federal or state government contacts a company.
Northwest Registered Agents will quickly forward such documents to the business owners when they receive them from federal or state agencies.
Registered agents must show proof that the business was formally contacted.
A lawsuit cannot be filed unless a registered agent has confirmed that they were contacted.
Why can't I be my own registered agent?
You can be in some states. There are disadvantages to being your own registered agent.
Your personal information and contact information will be published.
A lawsuit can be personally served on you in front of your employees
Any information that you must update changes
You must be available for work during business hours each day
You may need to employ a registered agent if your business operates in more than one state.
In essence, acting as your registered agent means that you may place a burden on your business.
What should you look for in a registered agent?
You should choose a company with a solid reputation for customer service and a wide range of services to meet your needs if you decide to hire a registered agent.
Northwest Registered Agent was established in 1998 to serve business owners of small businesses and individuals and large corporations and non-profits.
Northwest Registered Agent offers the right services to help you start your business, file the necessary changes, and receive subpoenas discreetly. This allows you to be informed quickly without notifying your employees.
When starting a business, Northwest Registered Agent is known as one of the best registered agents to use.
That's why after considering pricing, features, and reputation our favorite pick for best registered agent service is Northwest Registered Agent.