by Emily Stevens

LLC, Corporation and Nonprofit Formations 
MyCorporation is a popular LLC formation and incorporation service that was started back in 1995. Ever since then, they've served more than a million businesses. Despite facing intense competition, MyCorporation has managed to make a name for itself in the market.
MyCorporation is one of the top producers of business formations, copyrights, registered agent services, and trademarks in 2021. MyCorporation is owned and operated by the 100-year-old Deluxe Corporation of Minnesota. 
You can use this incorporation review to determine whether MyCorporation's LLC formation services are what you are looking for.
LLC, Corporation or Nonprofit Formations
Maintain MyBiz
Business Maintenance Filings
MyCorporation offers a great service for its customers who don't want to worry about remembering the ongoing maintenance filings required by law. For just $250. per year MyCorporation will be your personal assistant, making sure everything is filed on time so that you can focus on your business.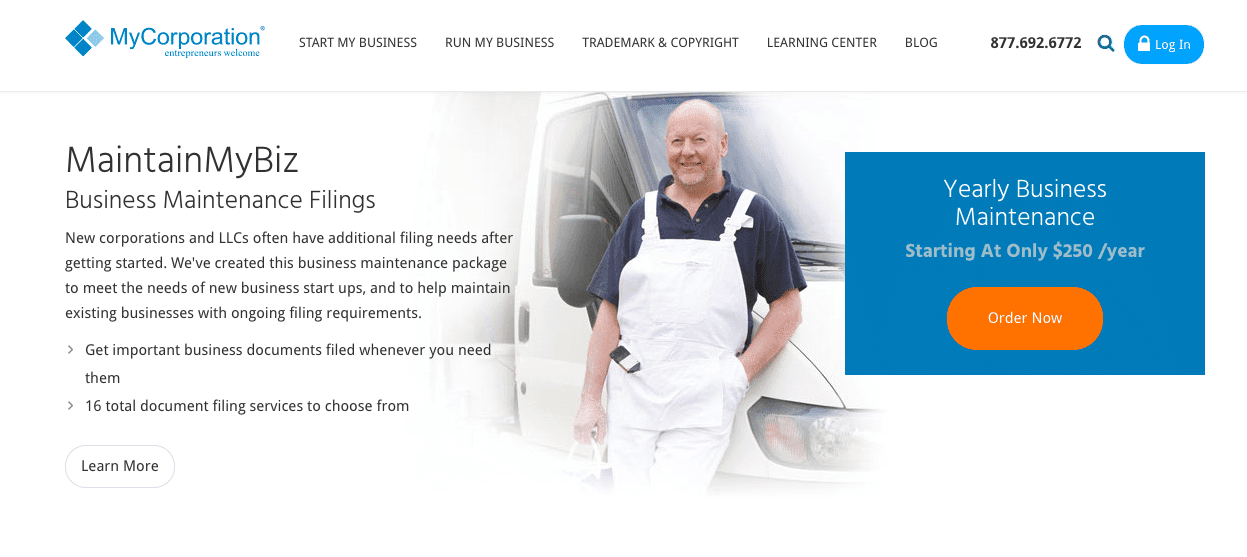 From the MyCorporation website,
New corporations and LLCs often have additional filing needs after getting started. We've created this business maintenance package to meet the needs of new business start-ups and to help maintain existing businesses with ongoing filing requirements.
Get important business documents filed whenever you need them
16 total document filing services to choose from
MyCorporation Business Formations
Advantages and Disadvantages
Advantages
MyCorporation offers LLC and corporation formation services that start at $99. Their Standard Package is $124 and includes annual report services for 12 months and is good compared to average attorney fees.

You can find other services with better pricing, but if you want a long history of business formations backed up by a well-known brand such as their parent company Deluxe Corporation, this could be a good choice for you.
Since its establishment in 1995, the firm has handled the formation of 1M+ businesses. Only LegalZoom, another industry giant, comes close to the experience that MyCorporation's experts have accumulated.

Customer feedback reviews are mostly positive about the firm's services. Despite having hundreds of verified customer reviews online, you will be hard-pressed to find any critical reviews about the firm's offerings.

MyCorporation provides a few financial services, which most competitors don't offer. These are available as add-ons at your discretion. For instance, they offer assistance with unemployment insurance and income tax filings for all your employees. While every business does not need these facilities, it is always good to be offered the choice.

Great Google reviews
Disadvantages
Their basic plan costs $99+ shipping. It runs $133., which is quite expensive when you consider the fact that there are many other LLC services out there, which are $90 cheaper and have more features.

EIN (Employee Identification Number) is an extra add-on for $79.

Registered agent services aren't included unless you opt for an upper-tier package. A few competitors like Northwest Registered Agent and IncFile provide registered agent services for 12 months, even for their basic LLC formation packages, which places MyCorporation's offering at a disadvantage.
LLC Formation and Incorporation Price Comparison
The firm provides 4 LLC formation service packages: Premium, Deluxe, Standard, and Basic. Here is a brief description of what each package entails.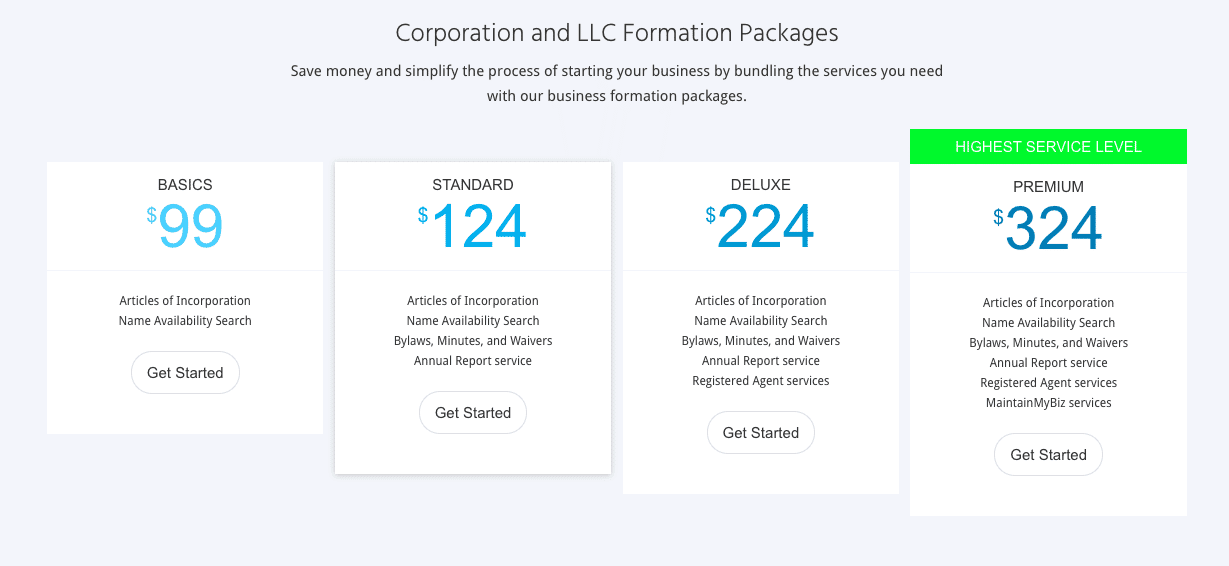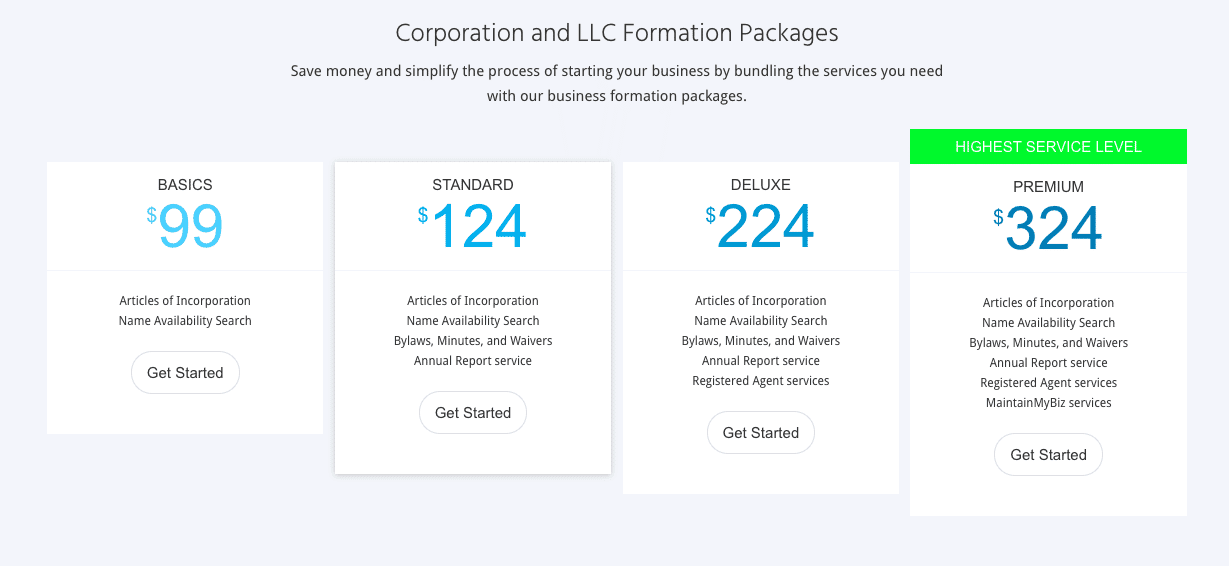 Note: The prices listed do not include the shipping fee of $34.
The Basic Package costs $99 + State Fee.
Articles of Organization (Filing and Preparation): MyCorporation will prepare these documents that are used for forming your LLC officially and registering them with government authorities. Once these forms are ready, MyCorporation will then file the documents with the state authorities of your choice to form your company or firm.

Business Name Check: They will also search the official business database of the state to ensure that your firm's name does not overlap with that of another company. They will make sure that your desired firm name is free to use in the state where your company is to be registered.
The Standard Package costs $124 + State Fee.
This package includes all services from their Basic Package along with an:
Annual Report Services: MyCorporation normally provides this service at $99 a year, exclusive of state fees. However, standard LLC formation package customers have access to this service free of cost for 12 months. They will file, prepare, and manage your annual reports and include a corporate reminders system, which will ensure that no critical deadlines will ever be missed.
The Deluxe Package costs $224 + State Fee.
This package includes all services offered by the Standard LLC formation package along with a:
Registered Agent Services for 12 Months: All American LLCs are required to appoint one registered agent, who may be an individual or an entity that accepts all-important deliveries acting on your LLC's behalf, and then forwards the documents to you. Upon the expiry of these 12 months, a fee of $120 a year will be charged by MyCorporation to continue this service, although you aren't under any obligation to renew it.
The Premium Package costs $324 + State Fee.
This package includes all services offered by the Deluxe LLC formation package along with a:
MaintainMyBiz Subscription Service for 12 Months: For the next 12 months, you can order 4 document preparation and filing services or/and business products offered by MyCorporation without paying any extra charges. These services are:
Certificate of Good Standing

Reinstatement

Dissolution

Apostille

Certified Copies

Corporate Seal

Membership Certificates

Corporate Minutes & Bylaws

Stock Certificates

Amendment

S-Corp Election

Foreign Qualification

Annual Report

Initial Report

Fictitious Business Name (DBA)

LLC Operating Agreement
Once the 12-month period comes to an end, this service can be renewed for $250 annually.
Corporation Minutes and Bylaws
Need to form a corporation? Get all the documents needed for maintaining minutes and bylaws.
From their website,
All the documents you'll need to operate your corporation.

Forming a corporation provides many benefits for your business, but managing a corporation requires some additional corporate formalities that can be confusing, not to mention time-consuming. Our customized minutes & bylaws package includes a variety of common corporate documents drafted by our filing experts that make meeting these requirements fast and easy.
Customer Reviews for MyCorporation
MyCorporation boasts several hundreds of reliable online customer reviews scattered throughout several 3rd party review websites. If you would like to know more about what opinions their clients have about them, you're free to go through their reviews yourself.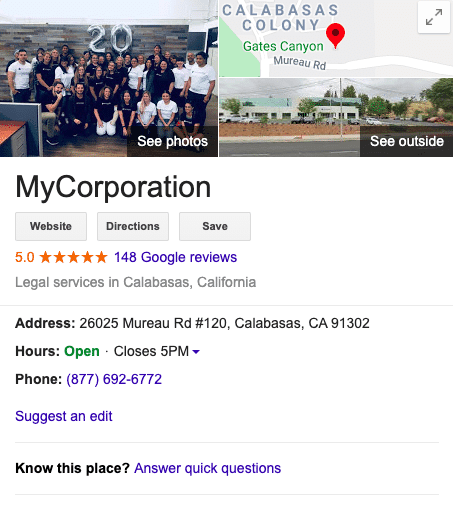 These reviews have all been provided by satisfied MyCorporation customers. The firm has impressive scores on all rating websites.
Clients are especially pleased with the speed at which MyCorporation usually processes their requests. They are also highly impressed by the quality rendered by the firm's customer service division. One can say that MyCorporation has a chip on its shoulder due to rave customer feedback.
Google: 5/5, 148 reviews
Alternatives to MyCorporation 
Since there are many firms out there that offer LLC services, it is worth knowing the offerings of other competitors. Dozens of rivals are eager to bag your business. If you are not impressed by MyCorporation's stats, many other services can get the job done well.
Popular LLC Filing Plans From Alternatives
ZenBusiness Pro Plan with LLC filing, formation, LLC operating agreement, EIN, the first year with registered agent services, and a worry-free compliance guarantee is $199 + state fee.
---
Northwest Registered Agent costs vary but are around $225 + state fee
We believe Northwest Registered Agent to be an excellent service worthy of their consideration. Their main selling points are their outstanding customer service and feature-rich LLC establishment packages.
---
IncFile with LLC Formation, Registered Agent, and EIN costs $149 + state fee.
IncFile is another perfectly excellent LLC establishment service. Additionally, they also have impressive customer reviews with high ratings across many websites.
Visit Our Top 8 Best LLC Formation Services Page
http://toptenwebhostingsites.com/business-tools/best-llc-formation-services/
---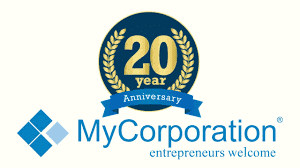 Is MyCorporation The Right Fit For You?
Based on what we've found, MyCorporation is an excellent company that has more advantages as opposed to disadvantages. But not every business may need the services they provide.
Therefore, let's look at a few scenarios where MyCorporation's services may/may not be useful for your incorporation needs.
Go for MyCorporation if:
If you're looking for annual reports services, they are an excellent choice. If you're seeking an LLC or incorporation service with excellent ratings, MyCorporation is what you need.
Don't go for MyCorporation if:
Other competitors provide free registered agent and LLC formation services at rates lower than MyCorporation's offerings.
Verdict:
MyCorporation comes with positive customer feedback, a history of experience, and reasonable prices, which is an excellent combo. You can go for them if you seek a trustworthy, reliable, and experienced LLC formation and incorporation, service provider.
MyCorporation is listed on our Top 8 Best LLC Formation and Incorporation Services For 2021
Top 8 Best LLC Formation Sites 
http://toptenwebhostingsites.com/business-tools/best-llc-formation-services/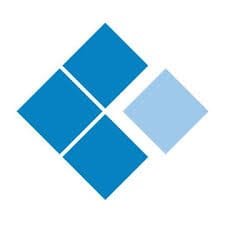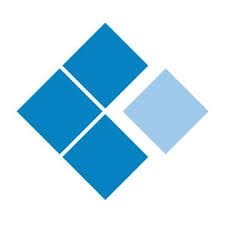 ---