Zenbusiness is a venture-funded public benefit company located in Austin, Texas. Ross Buhrdorf, who was previously HomeAway's Chief Technology Officer, founded the company in 2015.
The company's mission aims to help ordinary Americans realize their dreams of being entrepreneurs. ZenBusiness offers affordable LLC formations as well as incorporation, along with many other services required for a successful start-up launch.
Visit ZenBusiness
https://zenbusiness.com

ZenBusiness Review on the Pros and Cons
ZenBusiness

Pros

ZenBusiness

Cons

Good Pricing
Quick Turnaround Time
Rated 4.8/5 by Trustpilot
Extended Support Hours
Worry-Free Compliance Guarantee

Registered Agent Service is a $99 addon
In business for only 5 years
The website builder is limited
ZenBusiness Better Business Bureau Reviews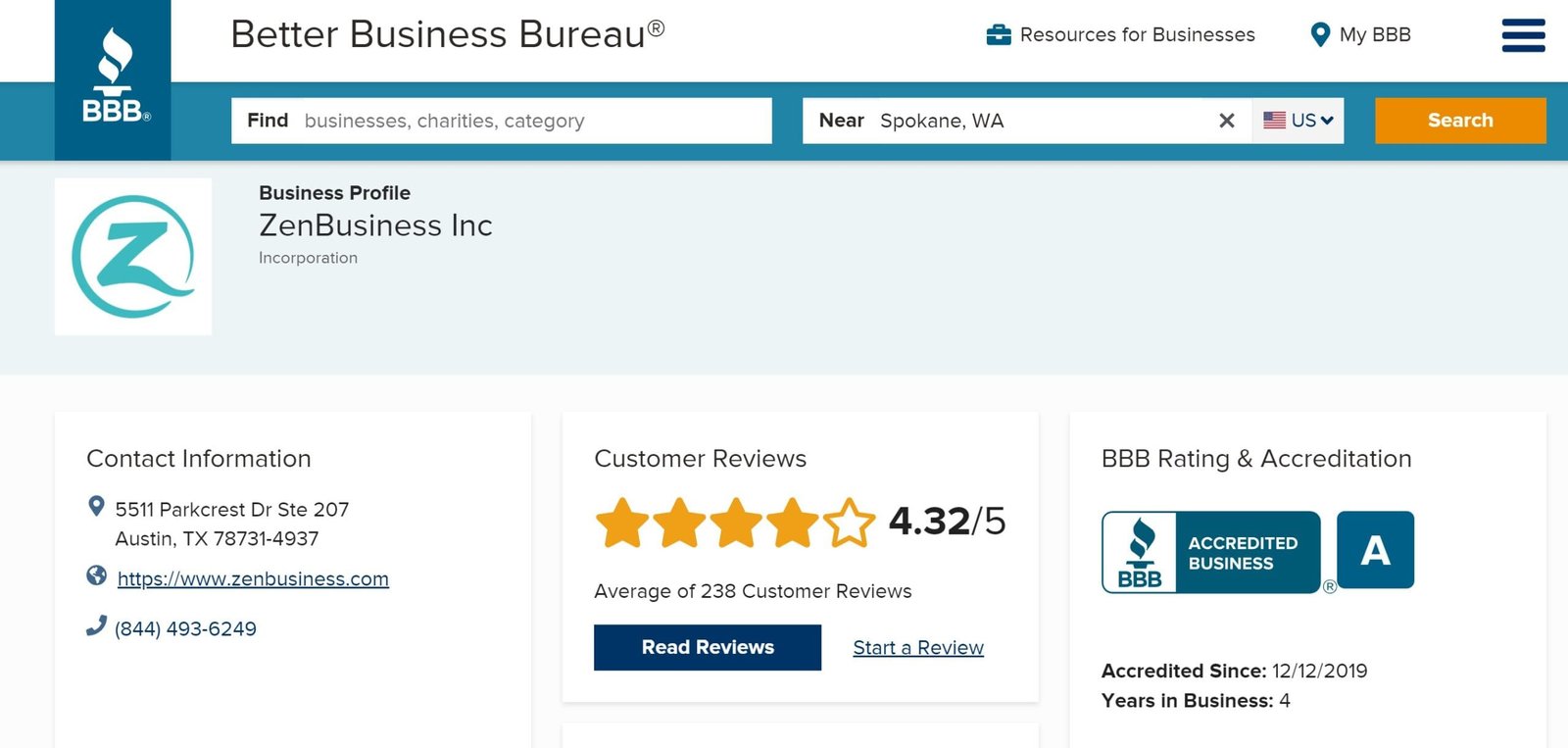 ZenBusiness has 238 BBB reviews and a BBB rating of A.
---
ZenBusiness offers many services for people who want to start their own business. The following services are offered by ZenBusiness:
Business entity formation services are available in all states It includes verifying the availability of the chosen business name and handling any additional formalities (such as New York publication requirements).
Registration agent services: All businesses must have a registered administrator. ZenBusiness can act as your registered agent to help you meet this requirement.
Compliance services: ZenBusiness can assist your company in maintaining its good standing with the Government by taking care of your annual reporting obligations.
ZenBusiness can assist with IRS paperwork. ZenBusiness can get a tax number for your company from the IRS.
Setting up your website: ZenBusiness can register a domain under your business name and set up a basic website in your corporation or LLC.
Provide common legal documents: ZenBusiness can provide templates for important legal documents like an Operating Agreement, corporate Bylaws, or a bank resolution.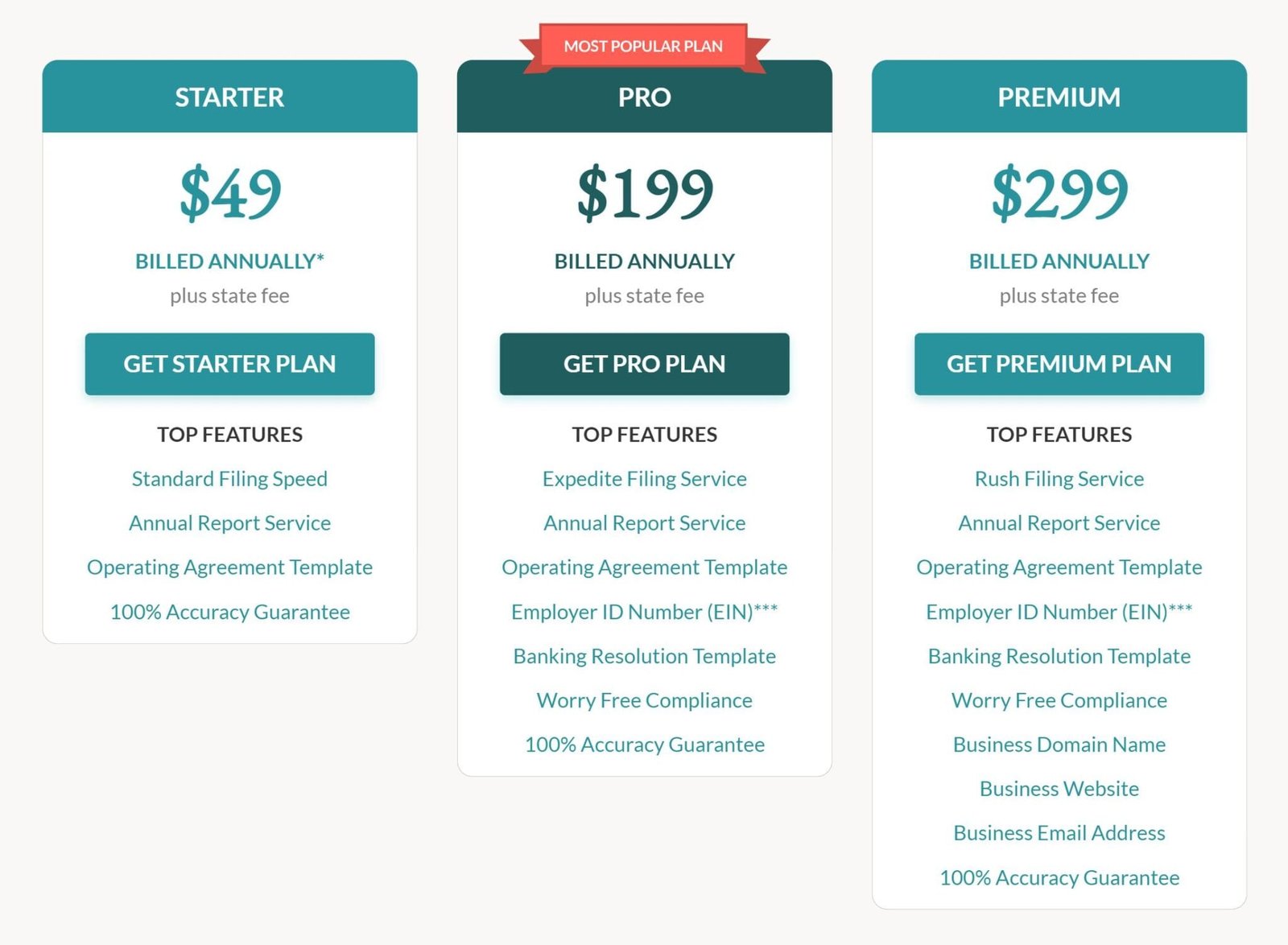 The ZenBusiness Website Builder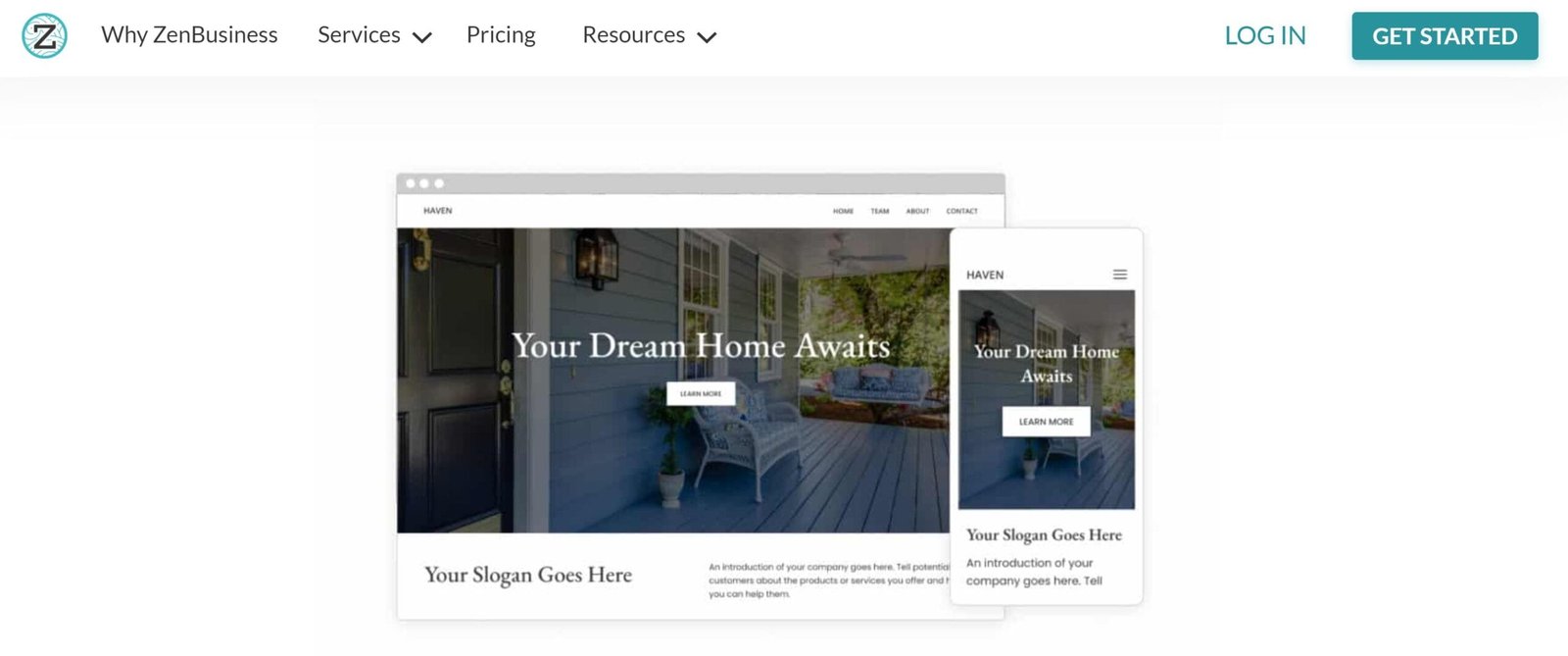 ---
Comparing ZenBusiness vs LegalZoom
LegalZoom
https://www.legalzoom.com
ZenBusiness
https://zenbusiness.com
LLC Formation Comparison Tables
| | | |
| --- | --- | --- |
|   | ZenBusiness Starter | LegalZoom Economy |
| Cost | $49/year plus state fee | $79/year plus state fee |
| Time to process orders | 10-14 business days | 30 business days |
| Included Registered Agent | No, it's an addon $119/year. | No. You can add $299/year |
| Operating Agreement | Yes | You can pay $99 more |
| EIN Registration | No. You can still add $70 | Yes. It is possible to add $60. However, it must be bundled together with an operating agreement ($159 total). |
| Business website | $100/year | No |
| Business Domain Name | $25/year | No |
| Email address for businesses | $25/year. However, domain names must be purchased together ($50 total). | No |
Note ZenBusiness offers customers the ability to pay more for expedited filing (4-9 business days) or Rush filing (1-3 business days) with a basic member.
Mid-level plan comparison
| | | |
| --- | --- | --- |
|   | ZenBusiness Pro | LegalZoom |
| Cost | $199/year plus state fee | $329/year plus state fee |
| Processing Time | 4-9 business days | 15 business days |
| Registered Agent | No, it's an extra $119/year. | Yes. You can add $299/year |
| Operating Agreement | Yes | No. You can add $99 additional |
| EIN Registration fee | Yes | No. You can still add $79 |
| Business Website | $100/year | No |
| Domain name for business | $25/year | No |
| Email Address for Business | $25/year. However, domain names must be purchased together ($50 total). | No |
Top-level plan comparison
| | | |
| --- | --- | --- |
|   | ZenBusiness Premium | LegalZoom Express Gold |
| Cost | $299/year | $349/year plus state fee |
| Time to process orders | 1-3 business days | 10 business days |
| Registered Agent | No, it's $119/year. | Yes. You can add $299/year |
| EIN Registration fee | Yes | Yes. You can also add $79 |
| Website for Businesses | Yes | No |
| Name of a business domain | Yes | No |
| Business email address | Yes | No |
ZenBusiness offers three plans for formation: the Starter, Pro, and Premium plans. All three of these plans include the essentials.
Service for Business Formation (preparation, filing of Articles of Organization).
Operating agreement (for LLCs) and Corporate Bylaws(for corporations).
Registered agent services
The Pro and Premium plans offer several additional services to go along with the basic LLC filing.
The Pro plan includes an expedited filing process, obtaining an IRS Employer ID Number, and worry-free compliance.
The Premium plan provides a quicker turnaround time and basic services for your business.
All ZenBusiness plans include registered agent services. You can also purchase them separately if your LLC or corporation already has one.
ZenBusiness offers a stand-alone registered agent for $99 or $149 if you wish to add compliance services.
ZenBusiness Starter Program: $49 + State Fees
ZenBusiness' bare-bones starter plan serves your basic formation needs. If you are looking to get your LLC started as cheaply and manage compliance yourself, we recommend this plan.
This plan has the following main features:
Basic Business Filing service: Filing articles of organization to the Secretary of State. Unlimited name searches of your chosen business name. This package is not available by default. You can add expedited filing separately.
Operating agreement template: The most important document in your LLC. It protects your personal assets from possible lawsuits and defines your LLC's nature, operation, and rules.
Registered Agent Service: Every LLC and corporation must have a registered agent appointed as soon as they are established. The registered agent's role is to receive important legal documents on behalf of the business.
ZenBusiness' online dashboard lets you track the progress of your order, and allows you to obtain electronic copies of your finalized formation documents whenever they become available.
ZenBusiness also provides a free accounting consultation. ZenBusiness will conduct a quick assessment of the accounting needs of your company and recommend additional steps based on your individual requirements.
The Starter plan doesn't include order expediting by default. There are a variety of turnaround times depending on the state in which your LLC is established. They can range from several days to several months.
ZenBusiness Pro plan: $149 + state fees
The majority of new owners of businesses should choose the Pro plan.
It is their most sought-after plan and comes with many extra features in addition to their Starter plan. It mainly includes compliance services and expedited formation.
ZenBusiness Pro offers everything included in the standard plan, plus more.
Expedited Filing Services: This allows for quicker processing and skips the line. It will take you between 4 and 2 weeks to file your application. This depends on the state, but it is usually anywhere from 4 to 2 days.
Employer Identification Number (EIN): This is your business's federal tax ID that has been issued by IRS. This number is like a social security card for your business. This is necessary to open a bank business account, hire employees, file tax returns, and for other purposes such as opening a company bank account.
ZenBusiness takes care of all compliance filings and makes sure your business is in good standing. You can make up to 2 amendments per year.
ZenBusiness will also provide a template for a Banking Resolution, which will be needed to open a new business bank account.
This plan can be renewed at $149/year. The annual filings for your LLC as well as compliance monitoring services are covered.
ZenBusiness Premium plan: $249 + state fees
The Premium plan includes basic web-related services and offers the fastest formation turnaround. The Premium plan is for those who need a basic site and want to form their LLC as quickly as possible.
ZenBusiness Premium offers everything Pro includes plus more.
Rush Filing Service It is possible to receive a response within a matter of days, although this will depend on your state. Premium plan customers in certain states can get a response to their filing within one working day.
Business Domain Names: ZenBusiness can get a domain with your chosen LLC's name if it is available.
Business Website: ZenBusiness can quickly build a basic, customized website using your business information.
ZenBusiness will establish a business email account for your company using the domain name. Access to 5GB of storage will be available for professional correspondence.
Most business owners will be able to ignore this upsell and move on to website creation later. It is generally a good idea to use other services for building your website.
This plan can be renewed at $249/year.
ZenBusiness Review: Customer Service
ZenBusiness provides extended support hours for customers:
ZenBusiness Extended Customer Support Phone Number Email Chat
Monday to Friday, 8 am to 8 pm central. Sundays 10 am to 7 midnight central.
Chat: Chat with zenbusiness.com during extended hours of support.
Telephone: ZenBusiness can be reached by calling 1-844 493-6249 during the extended hours of support.
Email: Get in touch at support@zenbusiness.com and expect a reply within one business day.
---
ZenBusiness Review: Comparison to Other LLC Services
ZenBusiness vs LegalZoom
|   | ZenBusiness | LegalZoom |
| --- | --- | --- |
| Basic Formation | $49 | $178 |
| Registered Agent | $99/yr | $249/yr |
| Formation and 1/yr Registered Agent | $148 | $427 |
ZenBusiness scores better than LegalZoom. LegalZoom has a stronger brand but not the same level of service.
LegalZoom's formation fees are just too high. This service is among the most costly we have ever seen. Yet, it doesn't offer much added value in comparison to other services.
ZenBusiness provides a quicker and more affordable service and offers much greater customer satisfaction.
ZenBusiness vs Swyft Filings
Swyft Filings has a lower cost per file and a quicker turnaround than other services. ZenBusiness, however, is comparable to or even better than Swyft Filings' performance and costs significantly less.
|   | ZenBusiness | Swyft Filings |
| --- | --- | --- |
| Basic Formation | $49 | $84 |
| Registered Agent  | $99/yr | $149/yr |
| Formation and 1/yr Registered Agent | $148 | $233 |
Swyft Filings is a good option for those looking for a low-cost service with a faster turnaround time than most. ZenBusiness is
Swyft Filings offers many of its services via third-party providers and upsells a lot more unnecessary services. ZenBusiness is more efficient.
ZenBusiness vs Incfile
ZenBusiness outperforms Incfile in virtually every category except price and experience. ZenBusiness offers much better customer service than Incfile based on Google reviews and Trustpilot reviews.
|   | ZenBusiness | Incfile |
| --- | --- | --- |
| Basic Formation | $49 | $0 |
| Registered Agent  | $99/yr | $0 (1st Year Free With Formation) |
| Formation and 1/yr Registered Agent | $148 | $0 Silver Package |
ZenBusiness has faster turnaround times and offers more affordable pricing. ZenBusiness also provides better customer service. ZenBusiness is a better choice than Incfile.
Can ZenBusiness Services Be Cancelled
They state in their cancellation policy that you have the right "to discontinue some or all your paid services at any time by contacting their support.
As mentioned, you have the option to cancel the annual subscription at any point by sending a message to the ZenBusiness support team. In certain cases, cancellation fees may apply.
The cancellation of registered agents services is one exception. You will need to appoint an agent new before you cancel ZenBusiness' services.
---
ZenBusiness Pros
1. Quick Turnaround Times
Many customers have reported that even during peak seasons, the process of forming their business entity only took a few business days.
2. Strong Customer Reviews
Trustpilot has more than 7000 ZenBusiness customer reviews. Most LLC owners are positive about them. Although there aren't many recent ZenBusiness reviews on Reddit, most are positive.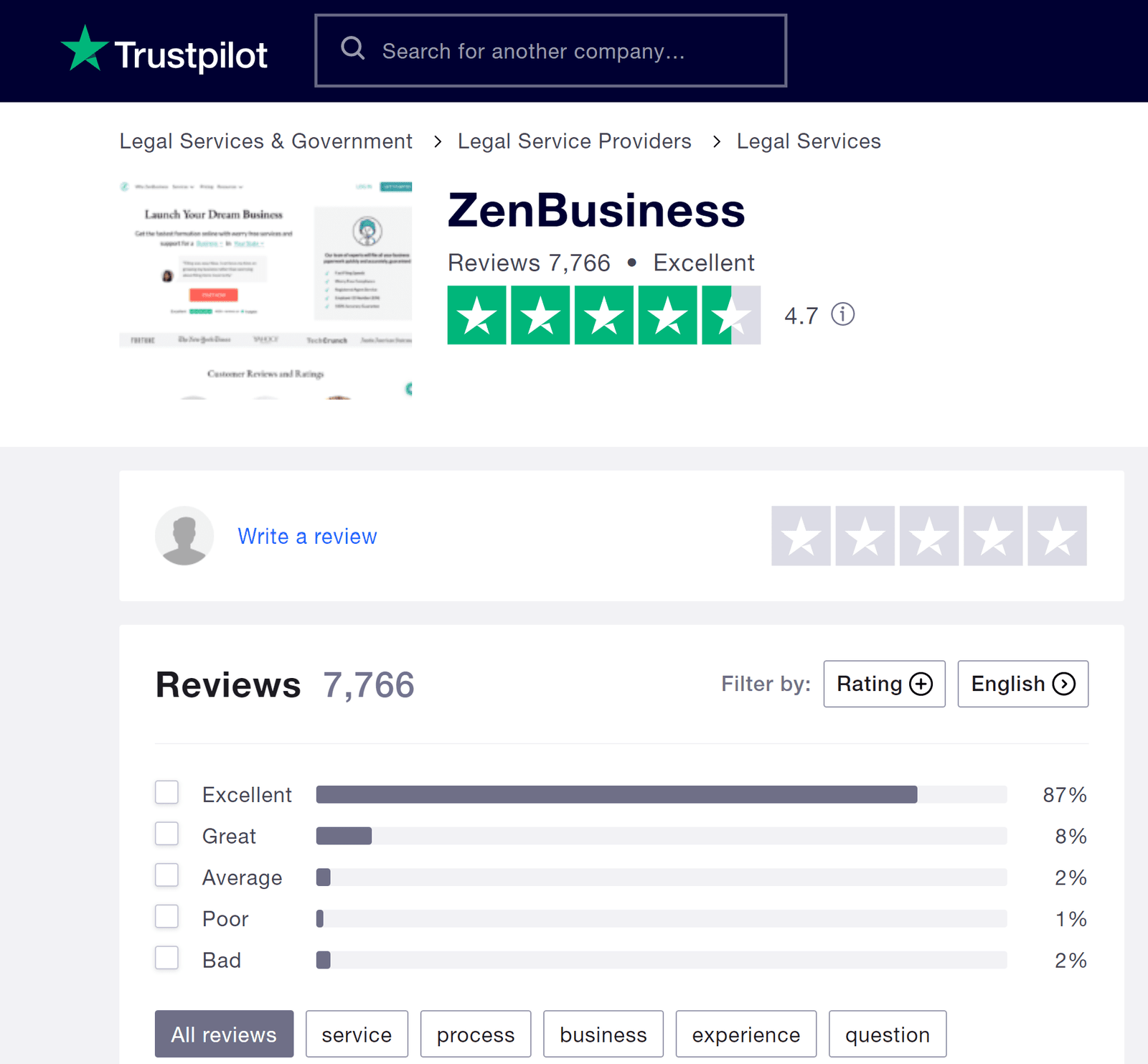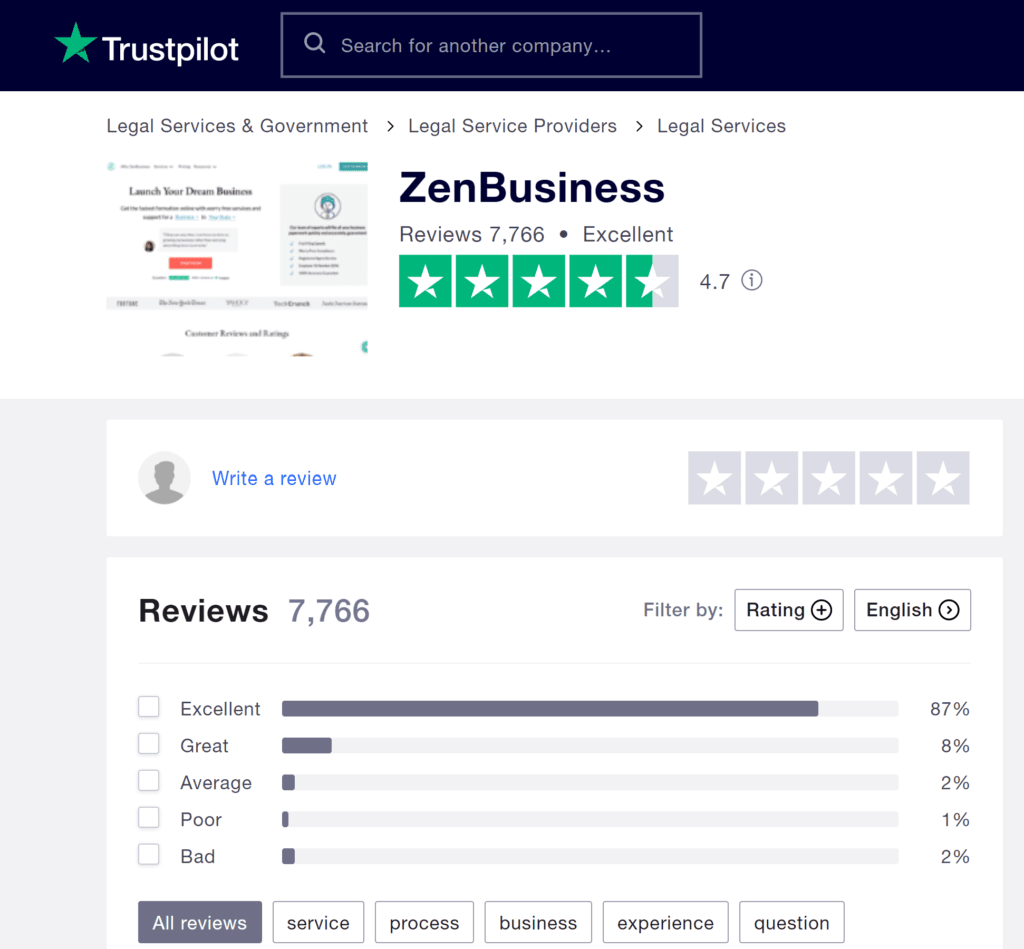 Extended customer support hours are very convenient when you need to reach the registered agent department in order to process your legal documents.
3. Extended Customer Support Hours via Chat and Phone
Extended customer support hours are very convenient when you need to reach the registered agent department in order to process your legal documents.
ZenBusiness Cons
ZenBusiness has almost everything covered. However, they are not perfect.
Here are some areas we believe ZenBusiness can improve. These areas aren't likely to be of major concern for most people.
1. Website functionality for businesses is limited
We always recommend that providers are experts in the services they offer.
ZenBusiness is a top-rated business formation service and our top choice. They are not as popular as more specialized online service companies, but they can build websites and provide domains.
Shopify is a great option for creating an online store. Wix can be used to host any service website. You'll have access to proven website builders and tools as well as services.
ZenBusiness' website costs (Website, Domain Privacy, Privacy, and Email) are only $110. This is quite competitive with other popular website builders. ZenBusiness might be the right fit for your website if it is not an integral part of your business.
2. Subscription Plan
ZenBusiness charges an annual subscription to renew your filing fees.
Their Starter Plan includes: Annual filing services
Starter plans offer significant discounts on your first-year costs. These plans renew at $119 All other formation packages will renew at the original price for their first year.
Their Pro Plan subscription includes:
These annual subscriptions can be canceled by the user if not wanted.
The subscription with the Premium Plan includes:
Web hosting
Domain Name (URL Registration)
Domain Privacy
Business Email
ZenBusiness Services
Business Formation
All plans come with this included.
The first step in any new business venture is usually to create a legal entity. Separate business entities can offer several benefits to your business and help protect you from any liability.
A limited liability company is the best choice for small- to medium-sized companies. The following three key features make LLCs appealing to entrepreneurs:
Limited Liability. The most important feature of an LLC is its limited liability. It means that your personal assets will not be at risk if your company is sued or goes under receivership. An LLC provides protection from economic damage and allows you to take some risks in your business.
Pass-through taxation: LLCs are exempt from paying separate taxes. Instead, incomes, as well as losses, are filed on members' personal tax returns. The IRS views single-member LLCs in essence as sole proprietorships while multi-member LLCs are considered partnerships.
Administrative flexibility: LLCs have fewer requirements regarding how they operate internally than corporations and have lower reporting obligations.
At the state level, LLC formations are handled. It involves filing Articles of Organization (the exact names may vary in different states) with the Office of the Secretary of State and paying a small processing cost.
ZenBusiness can help you avoid the frustration of dealing directly with government bureaucracies.
For your LLC to be legally registered, you will need to choose a business title. ZenBusiness will conduct a search of your chosen business name in order to verify that the name you have selected is not already taken. ZenBusiness will contact you before you proceed with your formation if it's not.
ZenBusiness will send your documents to your Secretary of State, once your order is complete. However, each state has its own filing and processing fees. The state will charge a fee, which can vary from $40 to $500.
ZenBusiness collects state fees on your behalf and forwards them to the Secretary of State. There are no hidden charges for this service.
It can take a significant amount of time before you receive your final forms documents. This is why the state laws vary. For an expedited LLC formation, an additional fee may be charged. ZenBusiness will give you a turnaround estimate before your order can be finalized.
Operating Agreement Template
Included with Premium, Pro, or Starter, $35 otherwise.
Operating agreements are essential documents for any LLC. The operating agreement is simply a contract that's signed by all members of the LLC and outlines the nature, structure, as well as operation of your business.
An operating agreement can make your LLC look like a sole proprietorship. Your limited liability as an LLC member may also be questioned. You could lose your personal assets, money, real property, and 401k if someone files a suit against your LLC.
An operating agreement will make your LLC more like a sole proprietorship and defeat its purpose.
ZenBusiness can help reduce this risk by providing operating agreements that are used today by thousands of LLCs.
Operating agreements, among others, are formalized by contract.
How ownership is split between members of an LLC
What happens to an LLC member who decides not to continue the business or dies?
Who is the LLC's manager?
What major business decisions are made
How LLC funding will be done
How profits should between members
Registered Agent Service
All plans included. $99/yr otherwise.
Each state requires corporations and LLCs to have a registered representative. Your registered agent is your official point of contact for certain important legal correspondence such as court summons. While virtual or business addresses may be offered by some providers, a registered representative is not a business mailing address.
Your registered agent will always receive official correspondence from the IRS, Secretary of State, and other government agencies. This legal documentation must be sent to the registered agent by your LLC or corporation.
Your registered agents must be accessible during regular business hours. You can act as your LLC's registered agents, but this is not recommended. You are responsible for any missed legal notices due to illness, vacation, or other reasons.
It helps to protect your privacy and personal data by appointing a professional registered representative. Contact details of registered agents are public records and can be accessed and viewed by anyone.
Registered agents must also have a physical address within the state in which their business is located. A registered agent service is required if you want to work in more than one state.
Many LLC formation companies, including ZenBusiness, offer a registered agent service. You can:
Keep your business compliant with all federal and state agencies
Access all important documents online.
Protect your storefront from tax and legal notices
Prevent the spam mail that all newly registered businesses get
Conclusion
ZenBusiness is a new company that is grabbing a lot of attention with its high standards for service, features, and affordable pricing.