WIX                         

        Base Rate  $5.00         "Outstanding"   10/10        www.wix.com                


---
                  Weebly                  

          Base Rate  $8.99         "Top Quality" 9.9                  www.weebly.com      


---
   +    WP & Bluehost    

            Base Rate  $3.95         "Great Service"   9.8             www.bluehost.com      


---
Q – What Are The Best Website Builders In 2022?
A – This depends on what is best for you and your business. And this decision should consider the purpose of your website, any technical skills you may have, your interest in learning, and a commitment to maintaining a website.
For those interested in choosing a website builder, in my opinion, there are three main options to take.
Option #1  A Simple Done-For-You Website. Affordable and Practical For Your Business. A Choice of Templates With Limited But Easy Edits.
Option #2  A Website Builder With Hosting. Paid Options Starting Around $10/mo
Option #3  WordPress as Your Website Builder. Hosted With A Good Managed WordPress Hosting Plan
---
Option #1
Get A Simple, Done-For-You Website For Your New Business
This option comes with some flexibility, not much but some, such as choosing from a variety of pre-designed and ready template styles. You can set it and forget about it for a while.
Who does this? A lot of hosting services do this. For those forming a new LLC or corporation, or just a simple website for a great price of $100. a year, we like ZenBusiness. 
ZenBusiness Website $100/year
Option #2
Have More Creative Freedom To Design The Type Of Style And Business Image That You Want To Portray. 
The benefit here is more creative freedom but with a slight learning curve. There are many tutorials online and plenty of YouTube videos to assist with the learning. 
Wix has a free website builder with free hosting. What's the catch? Wix places ads on your website and you can not have a custom domain, like www.yourbusiness.com. You need to upgrade to remove the ads and use a domain name that you own as your website address. Prices start at $14/mo.
Wix websites come with the 'Wix Editor' (website builder)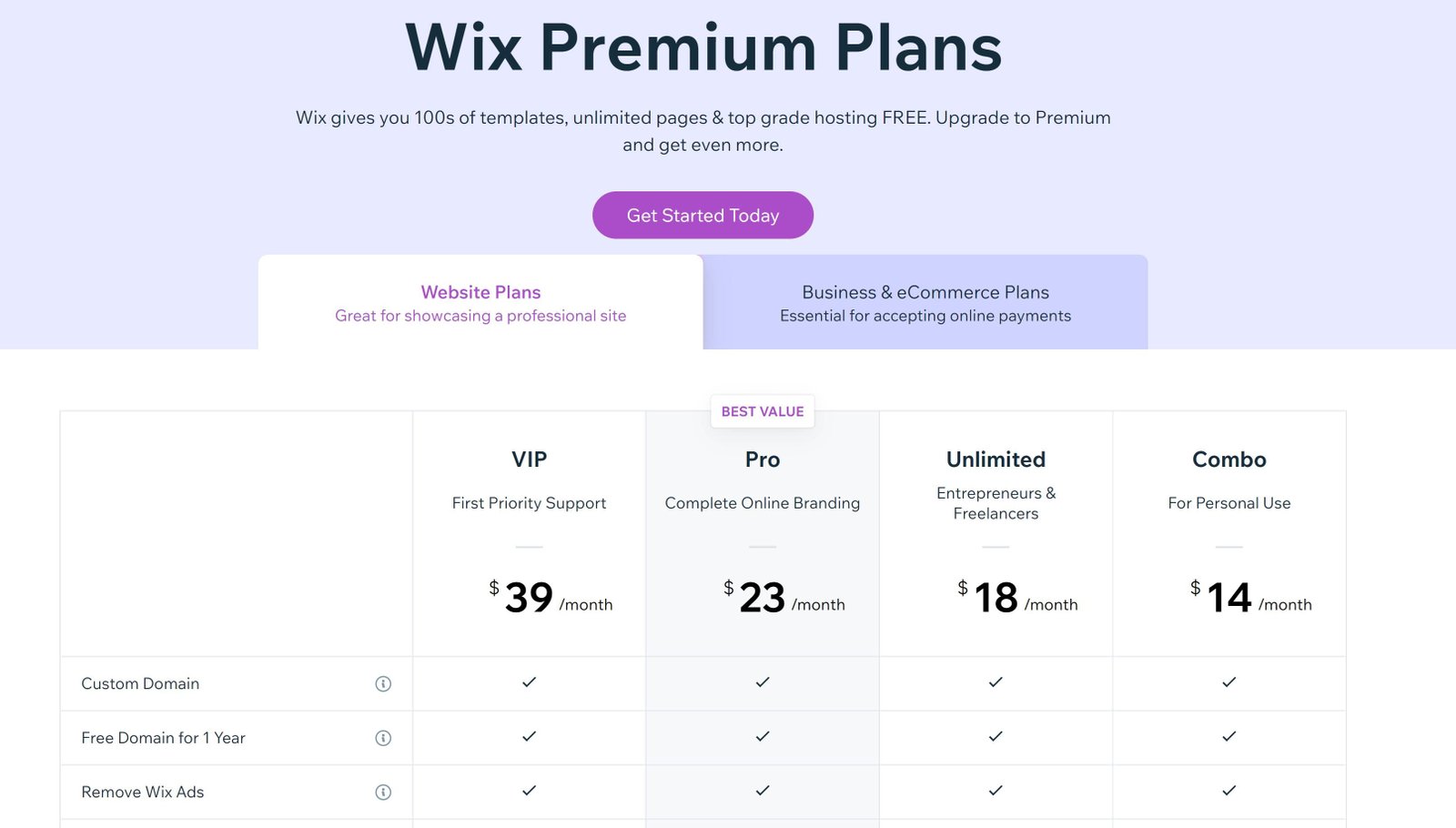 GoDaddy has a free website builder plan, but who wants a free website? You know it's going to be very, very limited. Why not just use Facebook if you can't afford to spend $10 a month.
I guess if you want to try them out first, this free website and builder could be an option.
GoDaddy's Free Website Builder Plan
---
GoDaddy's Paid Website Builder Plan
Prices For GoDaddy's Paid Website Builder 
Companies – Wix, Weebly, GoDaddy (Website builder plans)
---
Option #3
For Even MORE Creative Freedom And Control To Design The Type Of Website That You Want, And The Ability To Customize Further Than A Builder Like Wix or Weebly.
You use a "free" content management system (CMS) such as WordPress.org. The WordPress CMS  is free open-source software that powers about 40% of the websites in the U.S. today. The WordPress CMS is free but it needs to be hosted somewhere like GoDaddy, HostGator, or Bluehost. To keep it simple, the hosting company has computer servers that host your website. It is where your website lives, where it is based and published to the world. 
This option provides you with the most control over your site, but that control means you need to keep a daily watch on things. Most of this maintenance can be learned from YouTube tutorials. If it ever requires technical expertise, you can always hire a trusted website developer on Fiverr, but you have to find one. It's not that difficult, just do some research first. You will need to give your developer website access and some limited login credentials to your hosting service.
WordPress software is the "website builder". One benefit of using WordPress as a website builder is the fact that you now OWN the website.
The software for your WordPress website is NOT just WordPress, you will need some plugins, most of these are free. Your WordPress website will probably be a mix of over 10+ software applications, the CMS, the website theme, and various plugins. 
WordPress is a popular CMS and the trend with hosting companies is to offer "WordPress hosting". They have always offered to host WordPress websites, but because WordPress is so popular, the hosting companies put "WordPress" in their hosting service.
But wait there is more. There is another option and that is "WordPress Managed Hosting". To remove some of the technical work for WordPress website owners, the hosting companies have been offering Managed WordPress Hosting more and more over recent years. Managed WordPress Hosting does not mean that the hosting company does everything for you. This just means that this type of hosting service reduces some of the installation hurdles for the website owner and focuses on WordPress websites only. This type of hosting is sold as being more secure and providing faster speeds, often coming with a content delivery network, CDN. 
With each of these top hosting companies we have listed, the "website builder" is WordPress, aka "WP". For this type of hosting service, visit any of these services for your WordPress website.
If you have more than one business and you have multiple WordPress websites, we recommend getting GoDaddy Managed WordPress Hosting and add GoDaddy Pro. 
Combine WordPress with any of these hosts and you have the most control and flexibility over your site.
WP + GoDaddy (Editor's Choice 2022) 
WP + HostGator
WP + InMotion Hosting
WP + Hostinger
WP + A2 Hosting
Wp + SiteGround
WP + Bluehost
---
Let me be upfront with you. If you need a website, a free website, a premium website, a free website builder, a paid website builder, WordPress hosting, Managed WordPress hosting, VPS hosting, Dedicated server hosting, CDN, backups, and with premium security and real humans to pick up the phone 24/7 when you call for tech support at 2:00 am or 10:00 pm or if you prefer communicating with knowledgable tech support by chat, I suggest GoDaddy. They got a plan and a reasonable price waiting for you. Some people complain about them because they have a small upsell when you call, or maybe you need to be briefly on hold, but these guys host over 2 million websites and they don't charge very much. My experience with Godaddy for over 10 years has almost always been positive.
The Internet is one of the fastest-growing ways for people to start a business or make some extra money on the side. With that said, to do anything online, you have to have a website for people to find what you have to offer. With so many companies that offer their services for setting up a website, it is hard to know who you can trust to help to do this.
For those people who are looking for an inexpensive way to get started online, we put together a list of the seven most popular free or low-cost website building platforms on the internet today. To help you be able to make an informed decision on which one would be the best choice for building your new website:
hibu.com
---


The website offers several ways to help that are either free or at the very least affordably priced. They have developed a user-friendly system that provides a powerful and yet easy to navigate the process to get your website started and published in just a few short steps,
They offer a lot of premade backgrounds and page themes and other drag and drop based elements that are all designed to make building your first website a snap. You will also be offered several opportunities to take advantage of some premium services at a nominal charge, but are designed to enhance your online experience.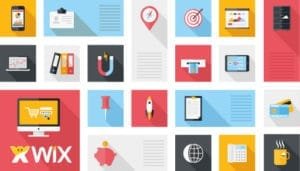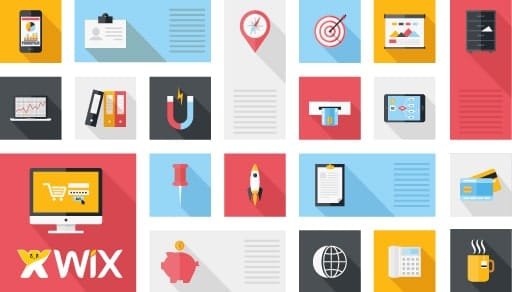 The robust set of tools makes it easy and intuitive for anyone regardless of your experience level to be able to put together a high-quality website that will be able to attract tons of traffic to your website for your business to flourish and grow. Setting up the look and feel of your new website is as simple as drag and drop all of the elements into the spots on your site that looks best for you.
For those who are needing extra help, Wix.com created a system for getting the help that you need by email, phone, online forum, and a Help Center. Each of them is extremely useful and free to all registered members of the site.
While free members can use most of what Wix.com offers, the beneficial features that are provided will require you to be a premium member and other features might require additional registering.
Pros
Choose between an automated site builder and a fully custom builder
Features a powerful drag and drop functionality
Free website builder and publisher
Cons
Non-paid websites feature intrusive, the prominent placing of Wix.com logo
Google Analytics is a paid option.
---
Weebly.com
Weebly.com is one of the top website building companies on the Internet and for an excellent reason. They are a one-stop website design and hosting company that offers high-quality websites for individuals and small businesses. The all-inclusive model that Weebly.com is based on is quite successful, and it also helps to keep the overall cost down for the website owner.
Weebly.com developed a powerful website design system that is based on the drag and drop concept. This makes it much quicker and easier to go from signup to published website in just a matter of minutes. By selecting one of the great-looking, fully customizable templates you on your way to having a fully functional website in only a few minutes.
One of the reasons why Weebly.com is a highly rated website builder is all of their services at a reasonable price. They also offer a free account that does offer great looks and capabilities. Each one of the paid levels offers several powerful features that all make whichever plan you choose, well worth the price you pay.
A bonus that you will only find at Weebly.com is helpful education and learning system that was designed especially for new members to the site. Knowledge is essential, and this is especially true when it comes to creating websites. The more you know about a subject, the better decisions you can make.
Pros
All hosting services are included in the monthly fees so there no extra cost
Four different pricing level; free, starter, pro and business
Powerful, drag and drop website builder makes it simple to design your website
Includes intuitive help and educational assistance
Cons
It does not have a powerful content management system built-in
All sites are subdomains of weebly.com
Not having full control of your websites limits your ability to adjust on the fly.
---
Bluehost.com  for WordPress
Bluehost.com is one of the most popular website building companies on the Internet. They offer all visitors four different levels of membership with each of them offering a wide range of functionality. Their system was designed to be used by all users regardless of experience level, and then drag and drop technology delivers excellent looking websites without needing any specialized training.
All WordPress websites are hosted with free SSL certificates and a free domain starting $3.95 regardless of the membership level you sign up for. After signing up, you will have instant access to all of the fully customizable themes and website templates. You can upload and add your custom images and numerous other website elements. Members get full access to website analytics to keep track of all of the traffic going to your site.
The basic membership level for $3.95 allows you to sign up and establish a custom site without having to pay an extra dime. Bluehost has three WooCommerce Hosting levels, Starter, Plus, and Pro. Members can set up e-commerce websites to sell products directly from their website. Full technical support is a valuable feature, and it is only available for premium and above membership level.
Pros
Many different membership levels available
Powerful website building platform for all four levels makes creating a website a snap
Website hosting for all member websites at the lowest prices available! Price is not a problem with Bluehost
Cons
Can't think of any right now, Bluehost Is That Good!!!
---
Site123.com is one of the highest-rated website building and web hosting businesses on the Internet. They built a business helping thousands of individuals and small businesses, establishing a presence on the Internet. Taking advantage of the many years of web design experience possessed by their team of web design specialists, they help provide their customers with the best-looking websites and help to drive traffic to their website.
Site123.com is by far the most user-friendly of all website builder sites on the Internet, and their unique paid platform is unique in that you do not pay for any hosting or website design services to establish your business website or individual website. Instead, you pay monthly for your account and your website domain, hosting and design are all free. They offer a reduced price if you agree to pay annually.
Site123.com is as simple as its name would imply, their power system is filled with dozens of tools, high quality premade templates, color palettes, images, and SEO friendly designs. The robust website design wizard was created in a way that makes it a snap for even the most novice. You can make an unlimited amount of updates to your websites that are attached to your account. An account with Site123.com allows you to create an unlimited number of sites. Another way Site123.com sets itself apart from its competition is that it offers e-commerce websites without costing any extra money to get started.
Pros
The highly intuitive web design wizard makes it a snap to build a great looking website
If you already have a domain name, you can bring it and add it to your account
Thousands of royalty-free high-resolution images
Cons
Costs a bit more than most low-cost options
---
Hibu.com is a unique website design company that differs from all of the other website design companies on our list. The primary way that Hibu is different from all of the other Does It Yourself designer website companies is that their staff of designers does all of the work for you. You do not have to lift a finger, and you will end up with SEO friendly, beautifully designed website without having to pay anything extra.
For one annual price that varies between $600 and $2000 per year, you get everything that you need, including a domain, hosting, and full design services. As an industry leader in Digital Marketing, hibu.com puts all of its marketing expertise behind every one of millions of websites that they have built for their customers over the past ten years.
After signing up, you will be asked to provide some background information on your design professional that was assigned to your account. Armed with the information you provide, they will come up with a fantastic website look.
Hibu.com sets itself apart from its competition by offering a higher level of services to all of its customers. The high-quality websites are optimized to work correctly whether your visitors are viewing it on a desktop, tablet, or smartphone. They also search engine optimized to help drive more traffic to your site. Each account also includes powerful analytics that shows how many people are visiting each website.
Pros
The package price comes with all of hibu.com many services included
All websites that are designed by a hibu.com staff member are SEO optimized
They offer highly trained, technical support and 24/7 customer service to help you
No previous website design experience is necessary
Cons
The cost is much higher than all of the companies on our list
---
Website Building Tools for CMS such as WordPress, Joomla, and Drupal.
iPage.com Website Builder offers
Page Website Builder (6 pages)

The mobile-optimized site builder

WordPress 1-click installer

Hundreds of templates and themes
Easy-to-use setup wizards

Content management systems




(WordPress, Joomla!, Drupal, etc.)
iPage is regarded as one of the top companies on the Internet for providing website hosting and website building services to the Internet Marketing Industry. iPage.com is a powerful "One-Stop" shop when it comes to getting your presence on the Internet established. To make the connection, you need with the prospects that you hope to turn into customers; you have to have a website for them find.
iPage offers a variety of options,
Blogs




(PixelPost, b2evolution, WordPress, etc)

Photo galleries (Gallery2, ZenPhoto
iPage.com offers uniquely different web hosting service levels, and each one is designed to offer its customers several valuable services that are designed to enhance the experience. Establishing a website could not be easier, and it does not require any previous web design experience. Build your website using all of the powerful tools provided by iPage.com.
Their easy-to-use website builder helps you create a professional, mobile-friendly site in no time along with SEO tools and online store capabilities.
If you want to do it yourself, you can choose a fully customizable template from the many hundreds of premade website themes. Using their powerful drag and drop website design system and other tools you can put together a great looking website all by yourself. They also have "coaches" available to help you get the best result from their design system.
Pros
Their system offers unique website creation methods for not only WordPress but Joomla and Drupal
Blogs




(PixelPost, b2evolution, WordPress, etc)

Photo galleries (Gallery2, ZenPhoto
Cons
If you find any, let us know.
---
HostGator.com  HostGator Website Builder
HostGator's Website Builder is one of the most popular website building services available today. They offer a wide range of functionality. Their system was designed to be used by all users regardless of experience level, and then drag and drop technology delivers excellent looking websites without needing any specialized training.
After signing up, you will have instant access to all of the fully customizable themes and website templates. You can upload and add your custom images and numerous other website elements. Paid members get full access to website analytics to keep track of all of the traffic going to your site.
The basic membership level allows you to sign up and establish a custom site with six pages for only $3.95. Next is the Pro package for $16.95 and you get unlimited pages for your website. The third is the Business package for $28.94. We recommend visiting HostGator.com to get a better view of their comparison price and features chart. Each of the three paid membership account levels offers additional features depending on what you are going to need.
24/7 Customer service and the highest level of service that you would expect from a reliable company.
Pros
Several membership levels available
Powerful website building platform for all levels makes creating a website a snap
Website hosting for all member websites
Cons
Haven't found any yet.
---