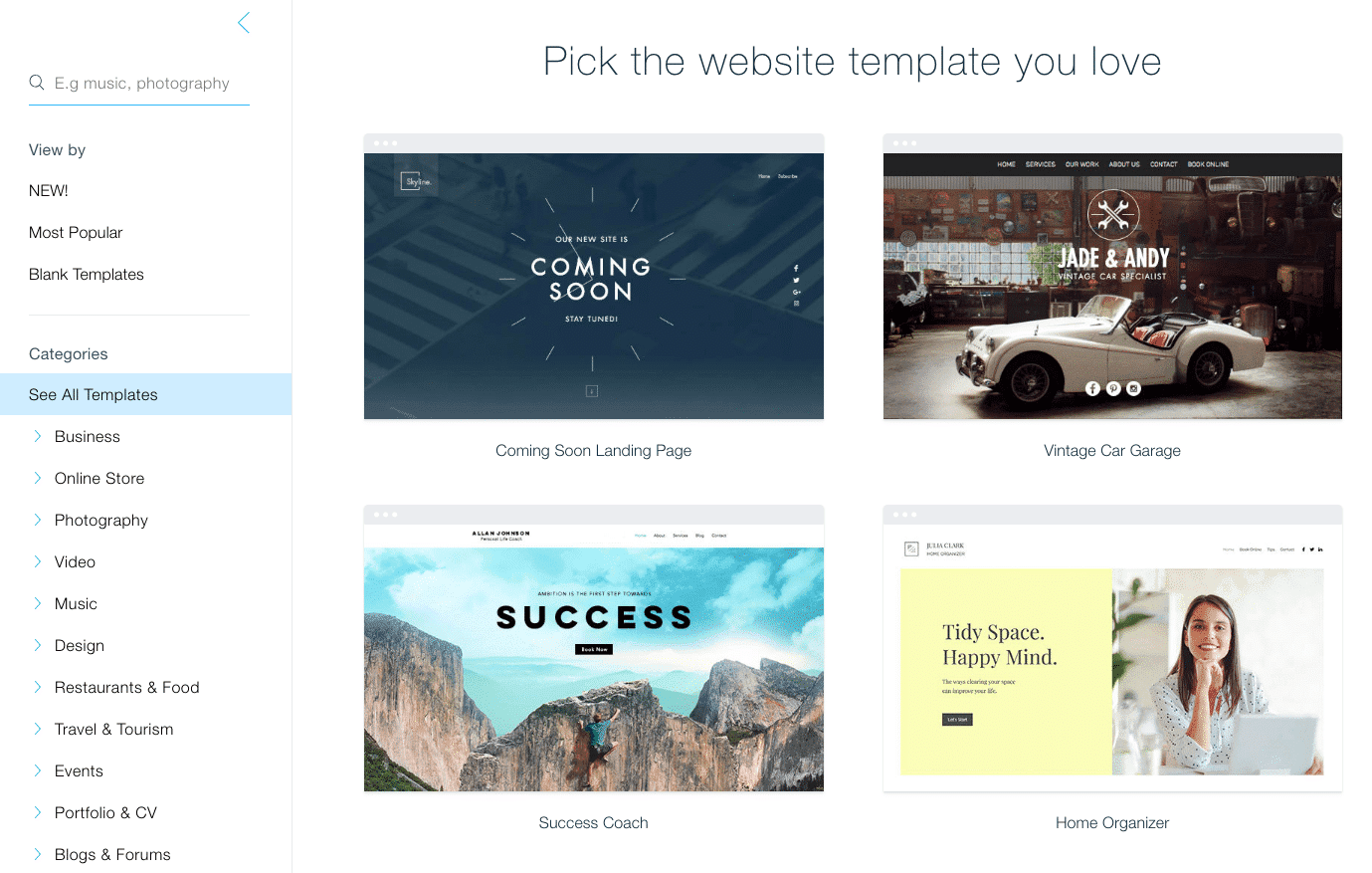 Wix review 2021: With website builders like Wix, you can design and build your website and not be at the mercy of other hosts' political views, rules, and policies. Social media sites are akin to hotels where anyone can be booted out at a moment's notice.
Having your website is similar to having your property with your own rules where social media are only having to point the way.
As a website builder, Wix is known to be easy to use and has a very bright and modern look and feel. It's known among website builders for giving a good user experience, gorgeous templates and a large marketplace for web apps that make any website come alive.
Business Tip: If you are planning to form an LLC or corporation soon visit our list of the best business formation services and get our pick for the best LLC service.
No matter the amount of experience, Wix promises your websites will look like a professional did it through an easy drag and drop interface.
Wix is for…
Wix does not require anyone to know HTML or any other code though knowing that stuff would help. Wix is best suited for anyone who wants to learn how to create a website on their own. It's a good place to start even for experts wishing to have a codebase.
Wix is also great for bloggers as its hundreds of templates can suit any interest, and small business owners will also profit well from using Wix websites as Wix allows users to create online stores that include shopping carts and accepts payments.
Again, there is no need to learn HTML, CSS, Javascript, ASP, or PHP to make a website. Usually, to make an excellent modern website, you need to learn at least three of the languages as mentioned earlier first. It's like learning Chinese, Japanese, and Korean at the same time, which can be quite intimidating.
Thus, the appeal of social media sites like Facebook and YouTube. However, you'd be surprised that many YouTubers and even major bloggers eventually develop their websites independent of their social media platforms.
For people who wish to go online to do business, it's in their best interest to build their websites rather than rely on other platforms whose rules and policies would contrast with what is needed.
All it takes is one lousy snafu, and anyone can be booted out of Facebook or YouTube. That won't happen if you have your website.
Now Wix can easily cater to newbies, professionals and small businesses alike through its over 500 customizable templates that can work with any brand or particular interest. 
Visit Wix https://www.wix.com
Wix is Easy…
Using Wix is easy. You can even have your website automatically done for you, or you can be guided into building your site by answering several simple questions. You're taken to several screens of questions until the website is done. This feature is available the moment you sign up manually or log in using your Facebook or Google account.
Alternatively, you can create your website from scratch. Using Wix website builder is so comfortable to use, you'll gain the hang of it within a few minutes.  The first step is to pick one from hundreds of templates available.
It sounds simple, but it's difficult to choose from hundreds of finely crafted templates; much like when shopping for clothes, when given a wide array of choices, it's reasonable to lose track of time.
With Wix, there is no need to understand the underlying code, which is the point of most website builders. Users need to draw on a blank canvas until the image looks just right.
However, Wx's simplicity still hides a little complexity that when taken advantage of could mean a much higher rate of success, so Wix makes available a blog with hundreds of tutorial videos to make the most of the website's editor.
Another thing that Wix makes easy for would-be website owners has nothing to do with the editor. Wix also makes the aspect of hosting a website easier by hosting sites created with Wix on their servers, eliminating the need for a separate web hosting account. As mentioned, all that's needed is an email account to get started.
Wix Templates…
A significant factor to a website's success is not just the engaging content, but the user experience. There are plenty of website with great content but are bogged down by bad design. Patience is not much of virtue on the internet, and slow loading websites are considered to deal breakers, despite their apparent beauty.
With Wix, their beautifully crafted templates, over five hundred of them, were made with grace and speed in mind.
Wix templates are sorted into over 70 different categories making it easier for users to choose the right style for the website's intended purpose as well as the users' sense of style.
The website's template section gives you all the information you need to know about a specific template and the type of website it's best suited to as described by professional web designers. With a click of a button, users can easily experience how a template will feel by providing a demonstration.
Wix also has an extensive library of royalty-free professional photos as stock images which web designers need to get started, that is if you're not good with images. These stock photos complement the site's many templates.
There's only one issue with Wix's templates though. Once you get started on your website on a particular template, there's no turning back. You'll have to start building again in case you decide to use another template, and unlike other website builders, there's no editing the CSS and HTML from within the Wix editor.
Wix SEO…
The problem with websites is that despite whatever tools were made to build them, their engaging content, beauty, and excellent user experience, they have no relevance if people can't find them in the vast landscape of the world wide web. Especially if you don't have a catchy domain name.
Wix knows the problem and provides its search engine optimization (SEO) tools. In case you don't know, SEO is an essential element that allows a website and its content to be ranked at the top of search results in various search engines like Google or Bing.
Wix SEO tools can allow users to analyze various elements of their websites like page titles, descriptions, meta tags and alt text and recommend better keywords that increase the web page's chances of being at the top of search results.
These tools include a keyword analyzer, which is part of the Wix personalized SEO plan along with Google Analytics; a Site Booster app which increases your website's visibility in your general area and many other SEO tools and add-on apps.
Wix Features…
Wix has some great features to spice up your websites aside from its gorgeous templates. These include:
Slideshows – these elements are essential when your website showcases several images, which can be useful when discussing lists, top tens, or product catalogs.
Parallax scrolling – is a significant effect that never gets old wherein the website's background scrolls at a different rate than the rest of the content. Parallax scrolling adds a feeling of depth to any website.
Artificial Design Intelligence (ADI) – in other words, a website building wizard that uses AI. If users choose to, this feature is available from the get-go. ADI features an algorithm where it deduces the right appearance of the website after the users answer a series of questions. It does come close, and if it doesn't, the resulting site can always be tweaked.
Wix Gallery – aside from slideshows, enhances how your website can handle images. It also allows images to be shared on social media.
Wix App Market – what makes Wix unique from other website builders is its large app market. Wix apps aren't like the apps on your smartphone but act more like the widgets on your Android phone screen. They're either visible or work in the background of your website. Wix, as well as third-party developers, make these apps. Like phone apps, there are free as well as premium versions that users need to buy.
Video backgrounds – enables websites to come alive when added. Imagine a big video playing in the background while looking at content. This feature is free as well as many of Wix stock videos that can be used for this feature. Wix also allows users to upload their videos. Video backgrounds, however, do not play on your site's mobile version.
Wix Mobile…
Web designers must consider that a majority of visitors will be visiting their websites through mobile devices and not just on computers and have to code mobile versions of their websites. Wix already had this in mind. All Wix websites are automatically created with a mobile version, and the Wix mobile editor can tweak this mobile version without affecting the actual site.
Wix eCommerce
Wix allows for the creation of online stores, and around 60 out of its more than 500 templates are dedicated to creating online stores. Setting up online stores will cost you though, and two of Wix's five package plans are for creating and managing them, namely eCommerce and VIP plans. Wix stores support secure Paypal integration.
Wix stores, unfortunately, does not support social media integration natively but some of its many apps do. They would cost additional though.
Wix Packages…
Wix websites may be free, but some added value goes a long way, especially when one wants to engage in e-commerce. Below is the cost of Wix packages and the added values customers will get.
| | | | | | |
| --- | --- | --- | --- | --- | --- |
| | VIP | Ecommerce | Unlimited | Combo | Connect Domain |
| | $25/month | $17/month | $14/month | $10/month | $5/month |
| Unlimited bandwidth | Yes | Yes | Yes | No | No |
| 20GB storage | Yes | Yes | No | No | No |
| 10GB storage | No | No | Yes | 3GB storage | 500MB storage |
| Connect your domain | Yes | Yes | Yes | Yes | Yes |
| Free domain (1 year) | Yes | Yes | Yes | Yes | No |
| Remove Wix ads | Yes | Yes | Yes | Yes | No |
| $300 ad vouchers | Yes | Yes | Yes | No | No |
| Site Booster App – $60 value | Yes | Yes | Yes | No | No |
| Form builder app – $48 value | Yes | Yes | Yes | No | No |
| Online store | Yes | Yes | No | No | No |
| VIP support | Yes | No | No | No | No |
| Priority response | Yes | No | No | No | No |
| Professional site review | Yes | No | No | No | No |
Wix is Secure…
Security is nowadays a major concern for websites. With Wix, your websites are hosted on Wix's secure servers, and Wix will be responsible for their security. Wix makes use of advanced security tools and employs dedicated security staff.
Wix also boasts to having what it calls multiple layer security architecture designed to protect against zero-day problems.
Passwords run through Wix are also stored in an encrypted manner. You also don't have to worry about Google throttling your website as Wix websites are secured by HTTPS/TLS encryption which is preferred by Google and boosts your site in search results.
Wix Support…
Wix has several layers of support that begin with the user. Wix has plenty of articles, tutorials, and videos posted on how to make the most of the website builder as well as solve some issues.
If you need help, Wix has a support center that can accept calls during regular business hours, and lastly excellent support where users are given priority status and receive results to their issues faster than usual.
In conclusion…
Wix makes it easy for anyone to create a website, be it a personal profile, a blog, or an online store. It has an easy to use and intuitive interface and plenty of features that make your websites attractive as well as offer several affordable packages for professionals and small businesses.
However, customization can only go so far as Wix does not allow code-level customization and some features can be gained free from other website builders. However, if you don't mind these small caveats, Wix is worth a try.
Visit Wix